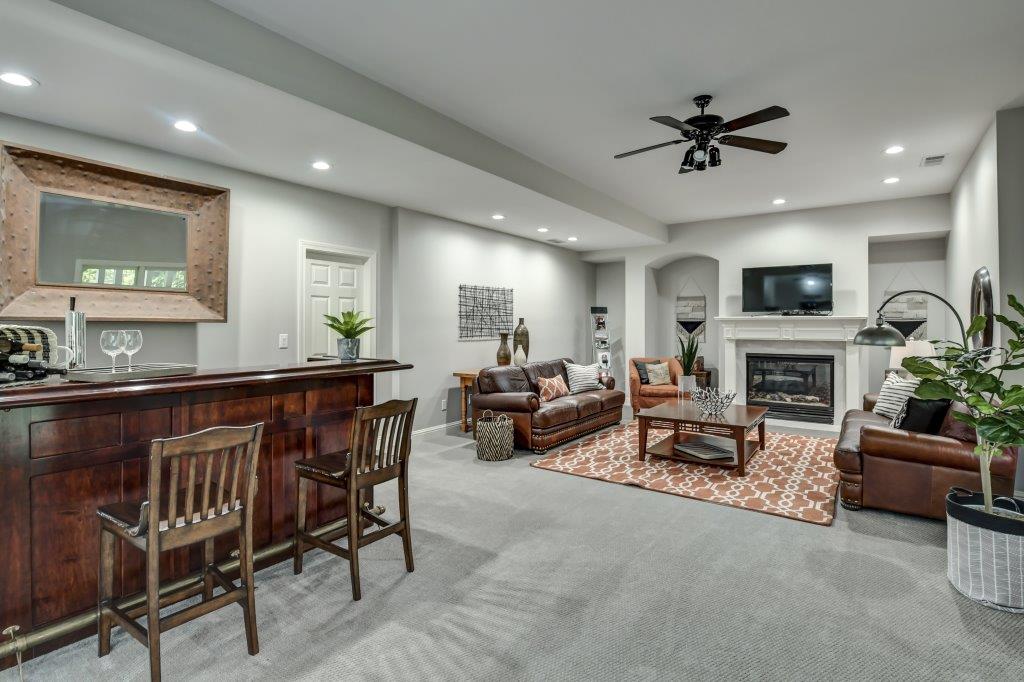 In the Urban Directory, a "diamond in the rough" is defined as this
Something that has hidden exceptional characteristics and/or future potential, but currently lacks the final touches that would make it truly stand out from the crowd.
The phrase is metaphorical and relates to the fact that naturally occurring diamonds are quite ordinary at first glance, and that their true beauty as jewels is only realized through the cutting and polishing process.
I can't think of another way to describe my latest home staging project other than a "Diamond in the Rough."
A Home Staging Story
In a highly influential neighborhood on the outskirts of Atlanta sat a home that had lost its value and had been pegged by realtors as a home that would never hit it's million dollar price tag. Even though its location could justify its asking price, most of its beauty and charm had been lost to time.
In the first initial meeting with the homeowners, the budget was established along with an expected completion date. With only four months to transform this hidden jewel and on a limited budget, I agreed to take on the project.
While previewing the home, I stood in the entryway and marveled at the possibilities. With a decorator's eye, I began to imagine how it could be brought back to its formal splendor. First, by concentrating only on its bones, I drew up a plan for what changes needed to be made. Cosmetically, I knew without a doubt that with a bit of polishing, this gem of a house could be returned to its formal beauty and provide the homeowners with the asking price they desired.
I began by selecting new paint colors to create a new color palette. Next, the dated hardwood floors were addressed. Although the architectural millwork added character to the walls, the fireplaces looked dated, fussy and needed some refining. The kitchen needed new countertops and appliances, a larger island and freshly painted cabinets. Then there came the real contender….the master bath. The entire bath had to be renovated and updated to bring it back to its luster. In turn, this room was destined for a complete gut job!
Once the major construction projects were tackled, I began the staging. I worked my magic by repurposing with existing furnishings and purchased a few new items. Soon the home began to take on a life of its own. Every room went from tired and outdated to hip and stylish!
Come take a walk with me through each room and see the transformation before your own eyes.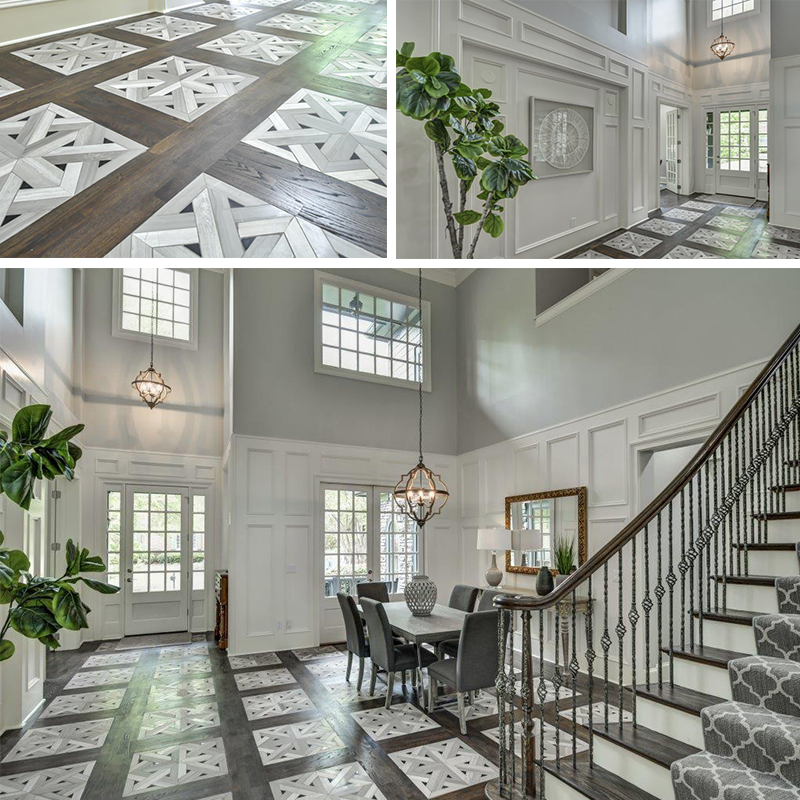 Grand Entryway
First impressions mean so much! It all began with the floors; the former dated pink inlaid granite was removed and changed to a gray and black sophisticated tile. We refurbished the wood floors and added a custom stain (mixing Jacobean with Provincial by Minwax). Gray and white carpet in a trellis pattern was installed on the stairs. The entryway soon became the architectural statement of the home.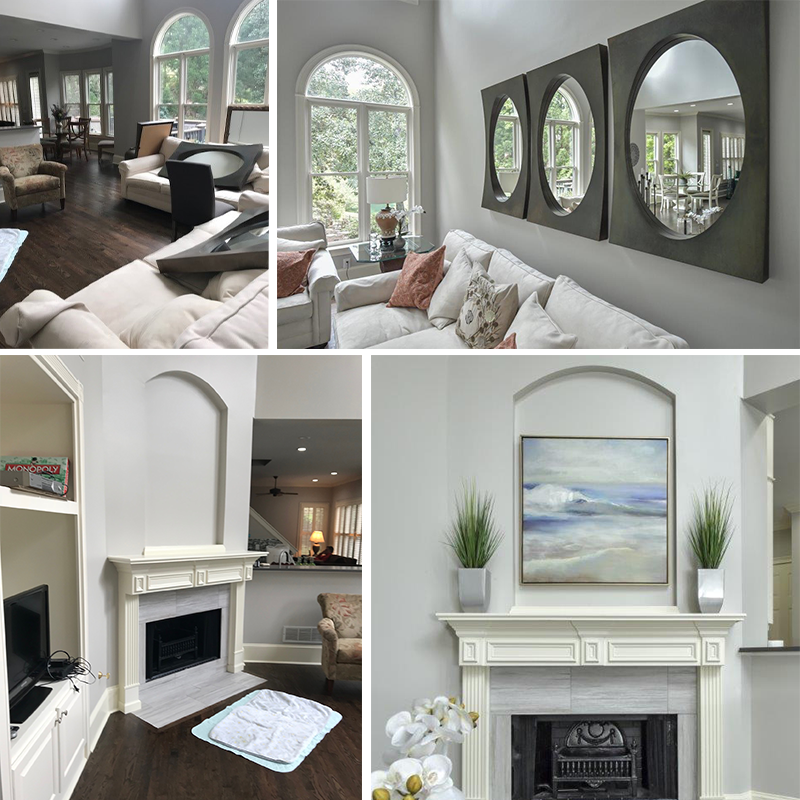 Formal Living Room
Most staging projects have limited budgets and this one was no exception. By repurposing as much of the existing furnishings as possible, we were able to transform the formal living room back to its original beauty with minimal changes. The most significant expense in this room was replacing the tile on the fireplace surround. I selected a 24 x 12 tile that resembled a gray stone. A few new accessories and a fresh coat of paint and soon this room was completed.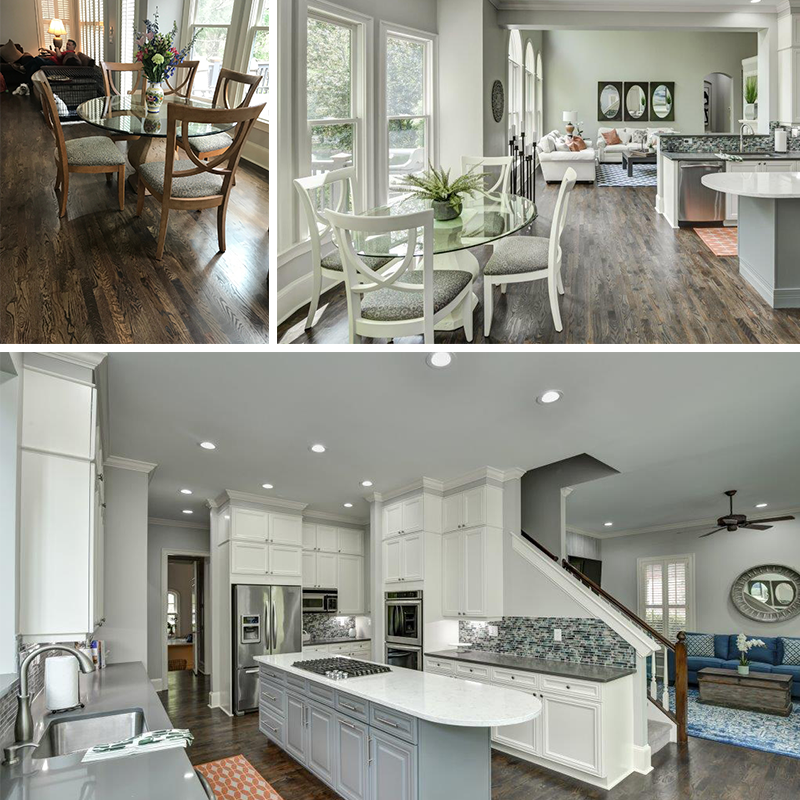 A Dream Kitchen
The heart of any home is the kitchen and is one place where home staging makes an impact. A fresh coat of paint on the cabinets and a larger island was necessary. New quartz countertops replicating Carrera marble, a larger cooktop, and a new backsplash in blue and green glass tile turned this outdated space into a dream kitchen. Keeping in mind the budget, we choose to paint the existing table and chairs to match the cabinets and trim instead of buying new.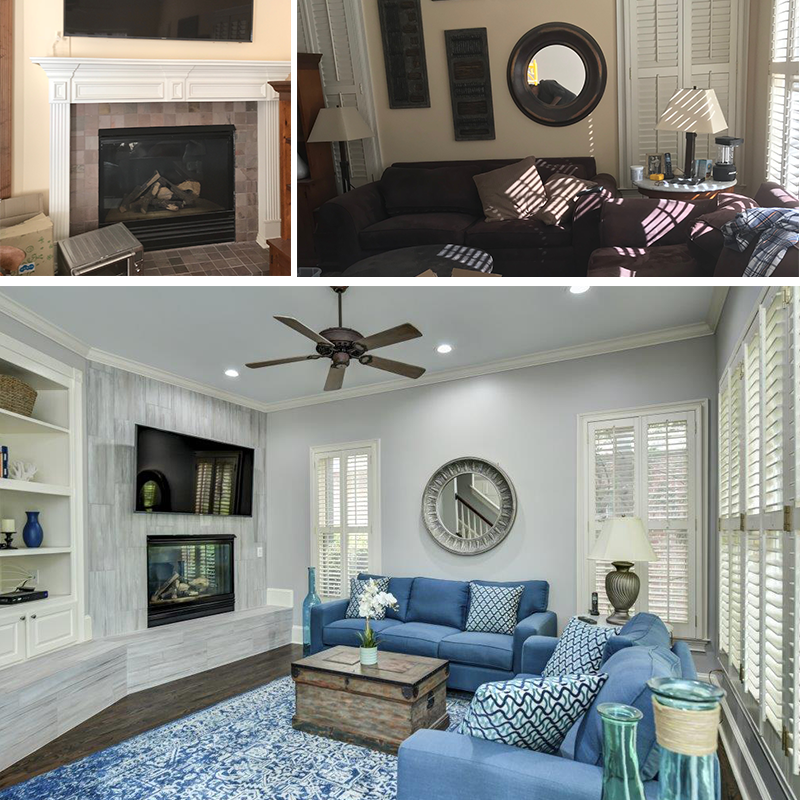 A Cozy Space
Every home needs a place where one can kick back and relax and a million dollar home is no exception. From the dark and drab brown tones to a fresh blue color scheme, this family room became a peaceful new oasis. To create a transitional style, we removed the traditional mantle and outdated tile on the fireplace surround. I selected 24 x 12 rectangular gray tile that mimicked travertine stone. We installed it vertically and horizontally for a contemporary look. A coat of white paint added to the bookshelves gave the room a fresh clean look.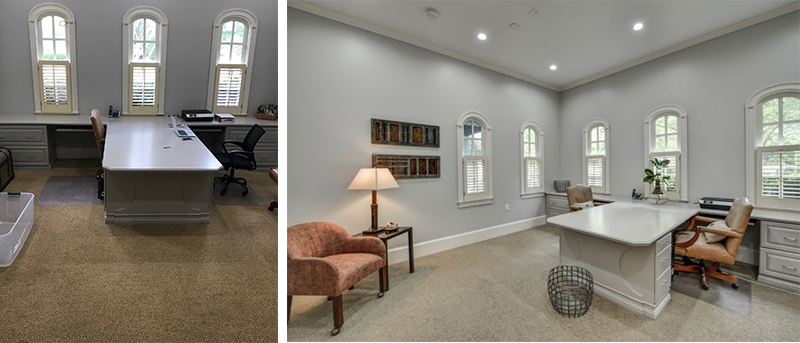 Perfect Office Space
Hidden in the 3rd garage was an ideal space for a home office. Not much was needed in this room but a fresh coat of gray paint on the desk and the walls. A few accessories added depth and texture, transforming this room into the perfect office space.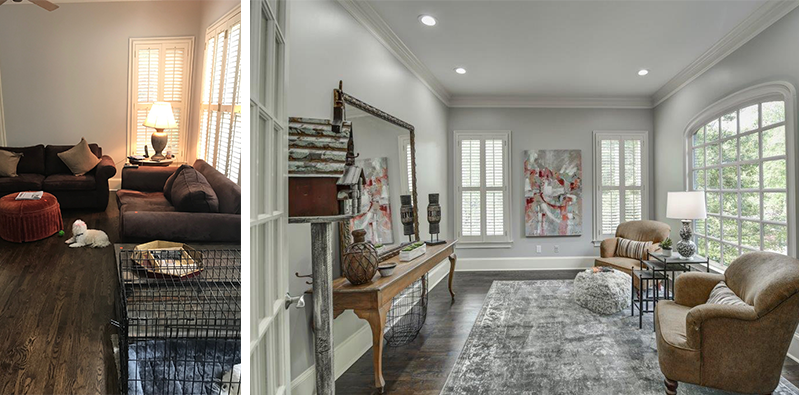 Unexpected Beauty
This space was initially designed to be a music room. With a few subtle changes, it was transformed into a light and airy living room. Using the homeowners existing chairs and tables, we only added new colorful artwork that drew your eye into the room. A new poof, a mirror that pulled nature and light in through the windows and an unexpected birdhouse add charm and character to the room.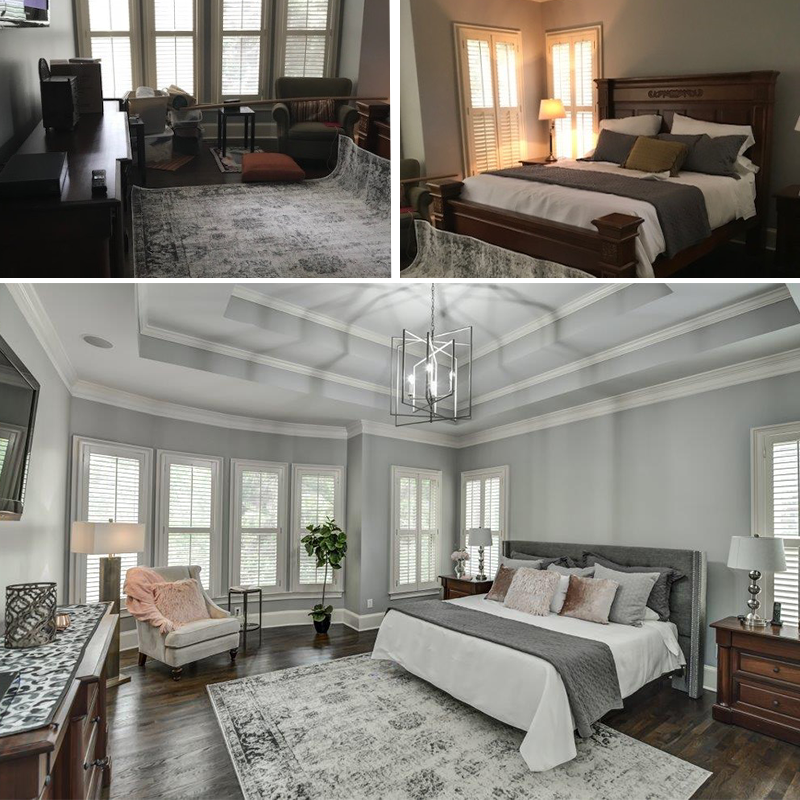 At Home Vacation
Today, most luxury hotel rooms are decorated in a sleek transitional style. The goal of this master bedroom was to emulate that style. By combining clean lines, soft colors and texture we created an elegant space with a contemporary twist. The original sleigh bed was too massive and traditional for the new design scheme. With the budget being stretched, I purchased an inexpensive upholstered headboard online to create a simple contemporary look. Newly purchased blush throw pillows, drum shade lamps, and a side chair gave this room a much more luxurious appeal.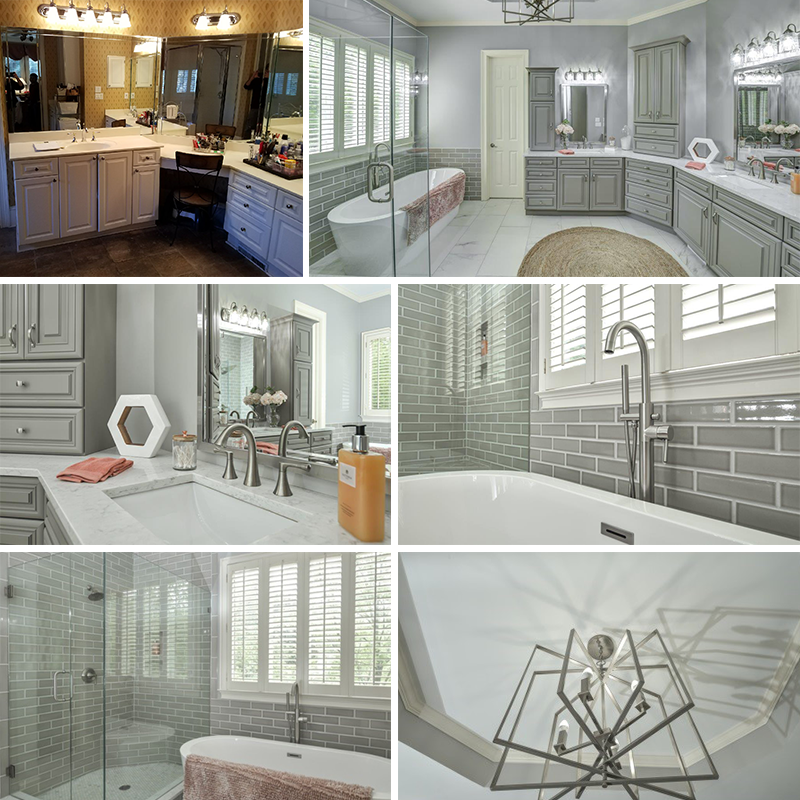 A Day at the Spa
The biggest transformation of this whole project was the new master bathroom. Even though it ate up a big part of the budget, the room went from ordinary to extraordinary and became a huge selling feature adding value to the home. We replaced the outdated tub and shower with a new glass shower enclosure and a stand-alone tub. Gray ceramic floor tile, new gray cabinets, and white quartz countertops were added. To create drama and to anchor the space, the overhead lighting was replaced with a large modern lantern. A few accessories were added in blush tones. Viola! The room became a sophisticated home spa!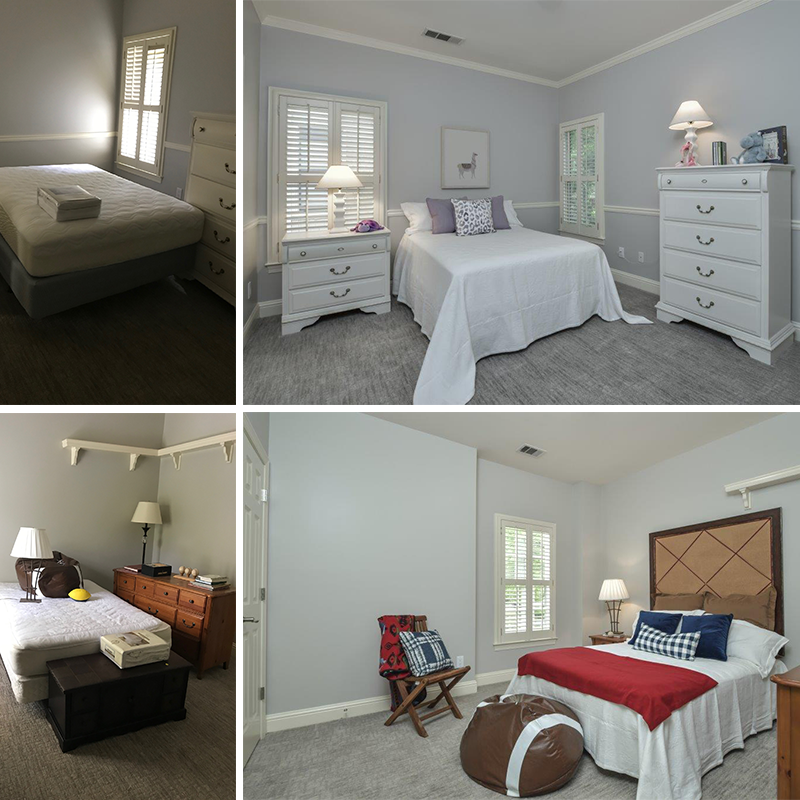 Repurpose and Reuse
The extra bedrooms took on a life of their own with a few simple changes and a new coat of paint. Looking to save money by repurposing things, we found each room told its own story.
The girl's bedroom was accented in lavender. I took my cue from a piece of artwork that I purchased from Home Goods of a purple giraffe that I hung over the bed.
The boy's room sported a new headboard with a forgotten bulletin board found in the basement.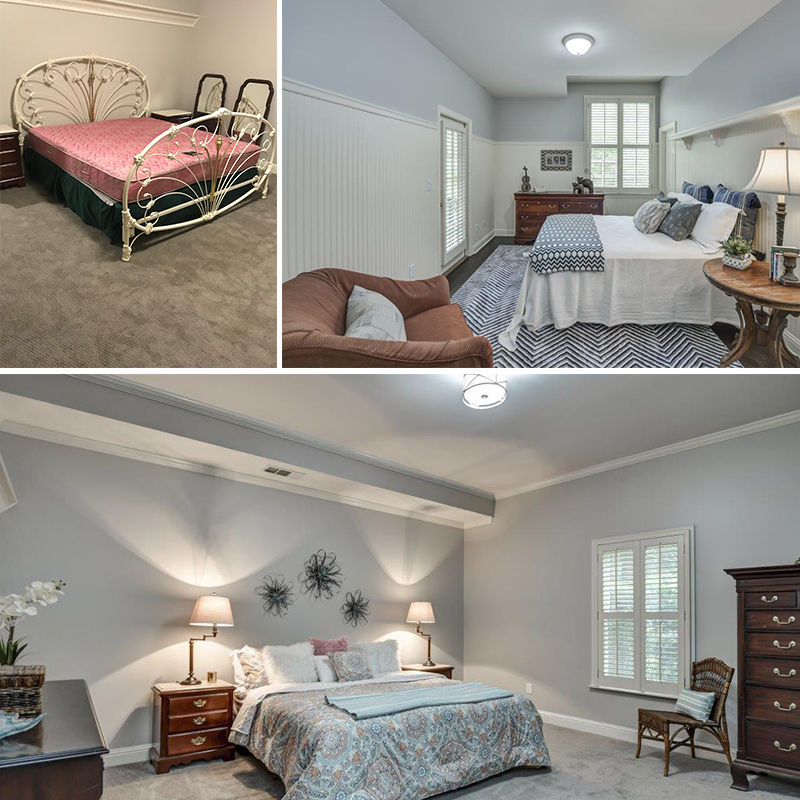 The guest room was decorated in blue and white. I purchased a new rug and coverlet from Wayfair. I was able to repurpose some of the homeowner's accessories to establish an inviting cozy bedroom.
By the time we got to the fourth bedroom in the basement, all that was needed were a few metal flowers replicating a headboard, a new comforter, and a few throw pillows.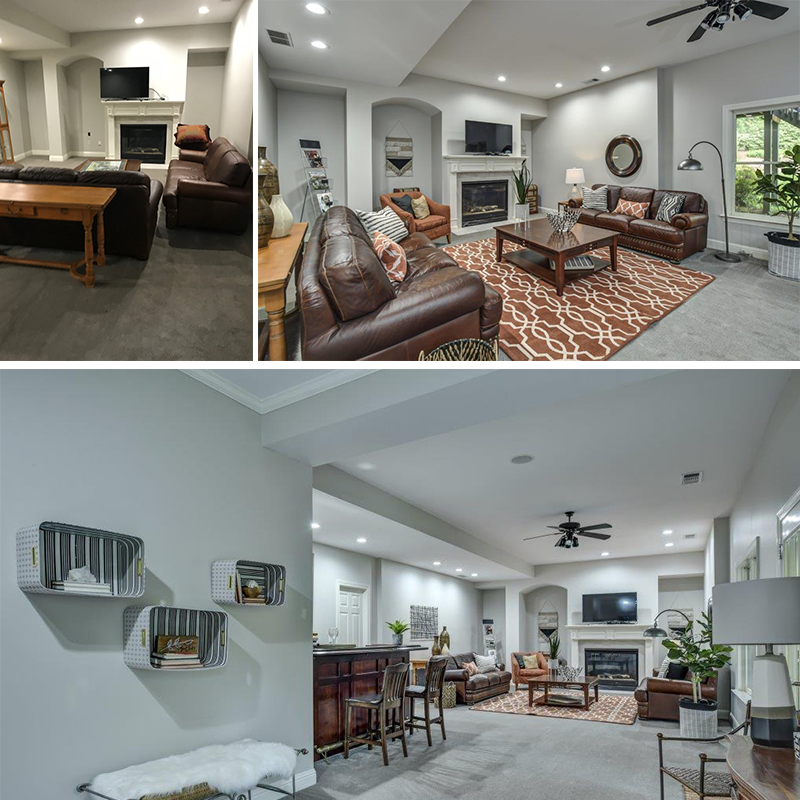 The Hidden Hideaway
And last, but not least, the basement became the home's Wow Factor! The homeowner had a collection of hidden gems that made designing this space spectacular. With a fresh coat of paint and leaning toward a Scandinavian theme, the basement became the perfect space in which to entertain. From the cozy leather sofas to the open seating and terracotta accessories, its rustic charm was a big hit!
So, you may be wondering …how much did it sell for and how long it was on the market?
I was not surprised when the Realtor called to tell me that the home had sold in 4 days for the asking price of 1.2 million.
If you're trying to sell a property in Toronto, you may want to see what homeads.ca can do for you. They have experience in managing the sales of many homes and that also includes setting up home staging like this.
 
---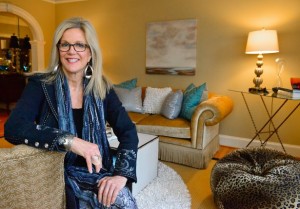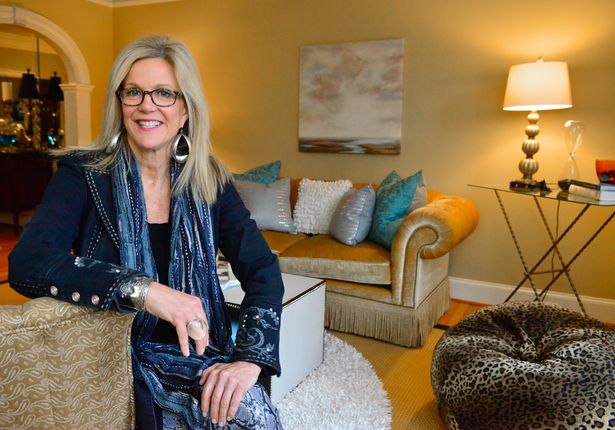 Melanie Serra, Interior Decorator, Certified Color, Redesign and Staging Instructor

Award-winning decorator and stylist Melanie Serra has been reviving interiors for over 17 years and has worked with clients in Dallas, Philadelphia, and Atlanta. Melanie Serra's approach to interior design is fresh and innovative transforming residential and commercial interiors from Now to WOW!

Atlanta Georgia – 404.943.0779
melanie@interior-revivals.com