Blush …Barely there but oh-so-lovely!
This delicate pink is my pick for this year's Inaugural Holiday Home Tour Fundraising Event hosted by the Roswell Woman's Club.
I'm honored to be selected as one of eight interior designers from the Roswell area to participate in this year's event.  Five Beautiful Homes in the heart of Historic Roswell will be featured and decorated with Holiday décor.
For one day only on November 4th, you'll get to see first hand these beautifully selected historical homes transformed into holiday masterpieces.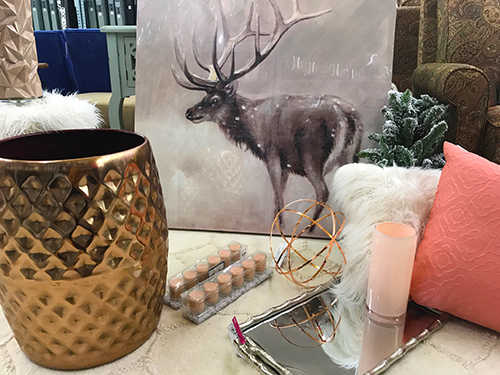 Inspiration pieces found at Tuesday Morning.
And the story goes …
An unexpected invitation, a cup of coffee with a friend, and a trip to Tuesday Mornings was all the inspiration I needed to choose a color and a theme for this year's event.  Who would have thought a little pink reindeer would give me the idea to go blush?
Blush can be a challenging color to decorate with since its primarily a feminine shade. But, I have paired it with copper and brought in a touch of nature to create a blush themed holiday display sure to appeal to men and women alike.
Blush, Pantone's Color of the Year in 2016, was the perfect choice for the Historic Ranch Home converted to Farmhouse Style to which I was assigned. And it is the ideal backdrop for my nature inspired holiday theme.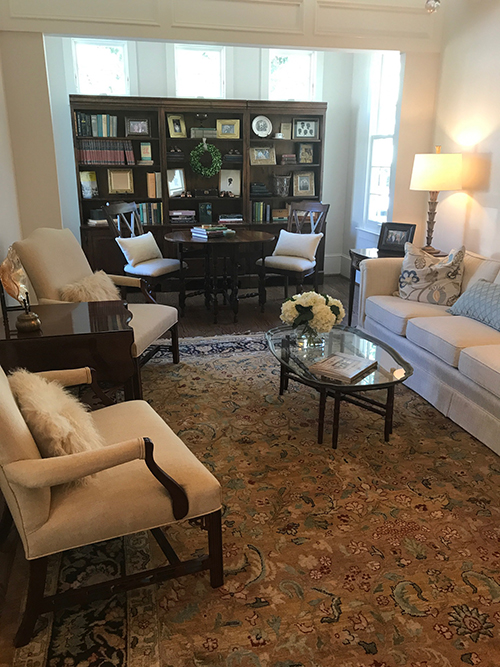 Livingroom showhome – before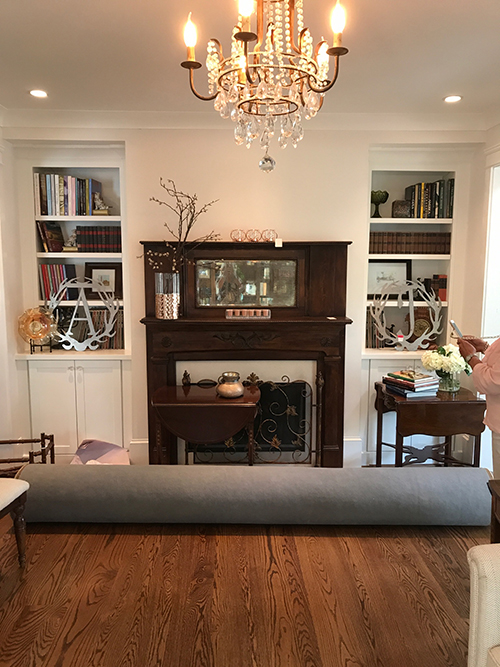 Fireplace surround was taken from a historical site.  The scale is tall and a challenge to decorate.
After meeting with the homeowner, I was permitted to choose the room that inspired me the most.  Selecting the living room, with its neutral furniture and traditional design I took notes, lots of pictures and went to work setting in motion a holiday theme. My goal was to highlight the character of the room by adding a more modern twist. I let everything sit for a couple days while relying on my intuitive impulses to work on the final layout.  Without buying a thing, I visited a few of my favorite stores taking in all they had to offer in my color choice and theme. The real find was when I visited Taylor Kinzel Gallery in downtown Roswell.  The minute I walked in the door, I was drawn to a  contemporary art piece that was reminiscent of birch trees illuminated in pearlescent hues …it fit my vision entirely.  While the piece measuring 60"x60" was too big for space, I knew I could redesign the room to make it work!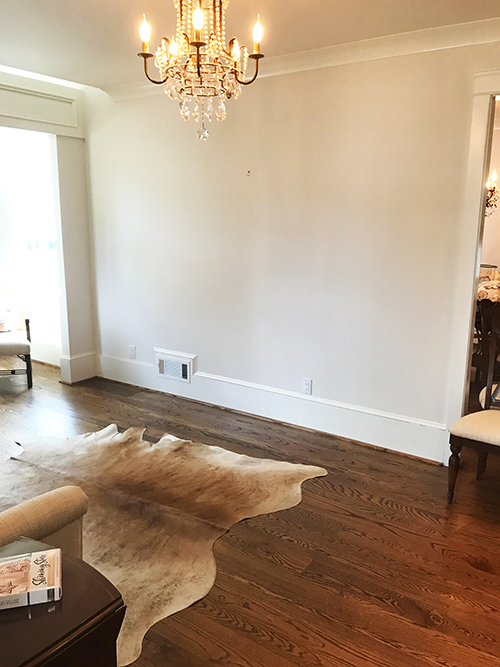 After rearranging the room the large-scale art will be perfect on this wall anchored by a large tree adorned in copper and blush.
After that, everything started to fall into place, and I was convinced I was on the right track.  I began to incorporate earthy elements into the mix,  adding various textures such as fur, feathers, bark, metals, and glass to enhance the theme.   However, I felt that there was still one thing missing …a certain item that would bring it all together. But I didn't quite know what that was yet.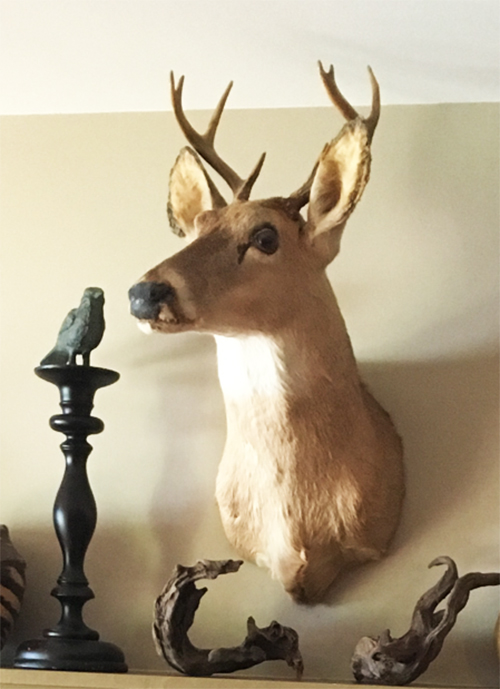 "Rudy"
Then out of nowhere in the middle of the night, it came to me.  "Rudy" was the answer!
Rudy was a ten-point buck mount.  I found him years ago hidden behind a sofa in a dark and dingy thrift store.  He was dirty and torn, and his nose had been replaced with a ping pong ball. Being the animal rights activist that  I am, I couldn't leave him hidden in the shadows, so I  rescued him that day. To preserve his essence, I took him home, cleaned him up and hired someone to give him a nose job. Dignity restored, he now resides at my lake home where he greets my guests.
Rudy was the missing link to my holiday room. He is the perfect guy to anchor the antique fireplace and serve as a second focal point in the room. He will be adorned in greenery and blush Christmas décor and will represent nature at its best!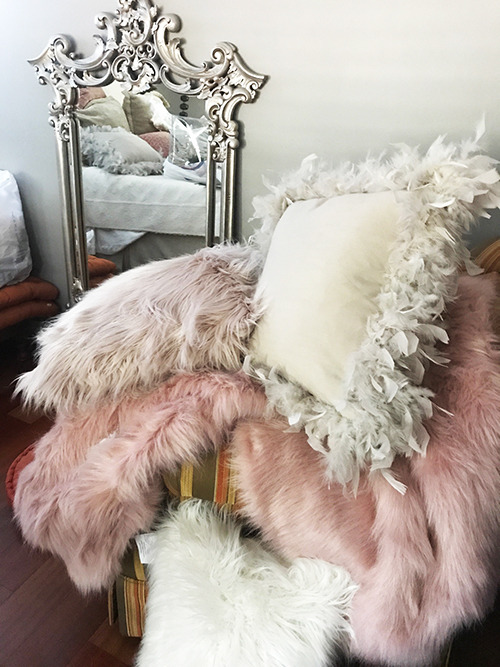 Of course, a lot of fur goes a long way!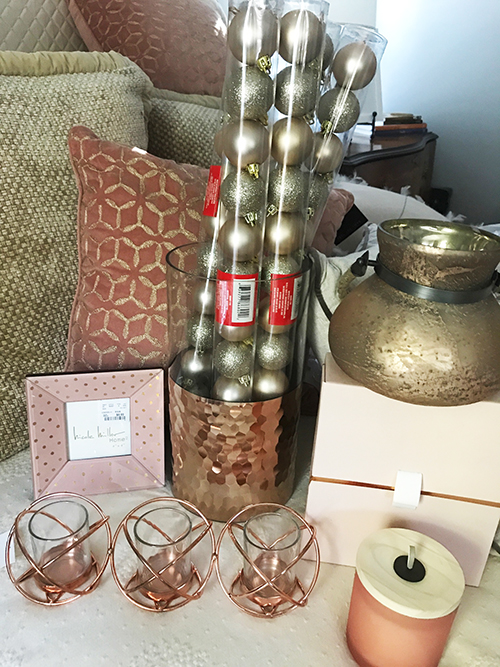 I love it when a plan comes together.
It is wonderful when my vision, intuition, and creativity all come together. The room has taken shape, and I am honored and excited to be showcasing my work at Roswell's first Holiday Tour of Homes. Both Rudy and I hope that you will join us at the Inaugural Holiday Home Tour on November 4th.  You can purchase tickets at www.holidayhometour.org.  All the proceeds go to charity, and the accessories and decorations (except for Rudy) will be for sale at the event.
If you're looking to decorate your home for the holidays, give your favorite Atlanta Interior Designer, (me) a call and let me show you all the ways you can add classic holiday beauty to your home.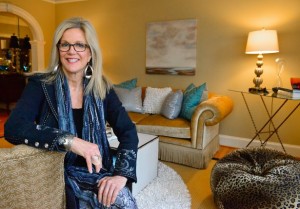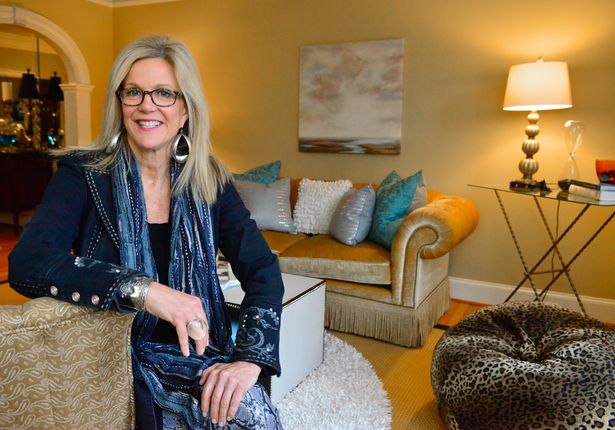 Melanie Serra, Interior Decorator in Atlanta, GA, Certified Color, Redesign and Staging Instructor

Award-winning decorator and stylist Melanie Serra has been reviving interiors for over 17 years and has worked with clients in Dallas, Philadelphia, and Atlanta. Melanie Serra's approach to interior design is fresh and innovative transforming residential and commercial interiors from Now to WOW!

Atlanta Georgia – 404.943.0779
melanie@interior-revivals.com