Bunk bed ideas for your home.
It's that time of the year when families travel across the country to visit with faraway relatives and share beach bungalows.  The line to the bathroom is always long, and the fight for the top bunk is always prevalent.  Bunk beds are not only for kid's rooms and summer camp anymore.  They have become a stylish solution to vacation and urban homes across the country.
Many clients especially those with second homes have asked how they can work bunk beds into their homes while still remaining tasteful and stylish. From impromptu sleepovers to a secret tree-house feel, kids young and old love bunk beds!
Far from the army barracks of the past, bunk beds are more stylish and practical than ever before.  The cozy built-in bedroom nook creates space-saving comfort again and again. Today's interior designers are finding more creative ways to sleep as many people as required into a smaller space.
For some fun inspiration, I'm sharing my bunk bed idea book with you.
If space is an issue in your home. Furniture manufacturers offer many options when it comes to utilizing extra storage space that includes a restful sleep. Opt for a lofted bed with drawers or shelves underneath. Let's face it, who couldn't use more storage space!
The ideal solution for lots of overnight guests is a whole bunk room furnished with two or more sets of bunk beds.  They can add a dramatic addition to any guest room. Whether built-ins or ready-mades, a room full of bunk beds can be a space-saving dream.
If design and style are essential, you can keep the room looking fresh and neat by color-coordinating the bedding. Keep the duvet and area rugs in a tight color palette and choose to opt-out of a lot of clutter.
If your bunk room serves a multitude of visitors, keep the age of your guest in mind.  Choose a twin-over-full so the kids can climb up top and the grownups can stretch out on the queen.
We have come a long way from the clunky oak and metal-framed bunk beds of our childhood. Furniture stores are packed with stylish pieces that will match any décor. Off the showroom floor, bunk beds can fit almost any space if you position them end-to-end where you can make room for a crowd without breaking the bank.
To utilize the space in a smaller room, arrange the beds in the corner. This will free up space for an extra dresser or small desk without taking up extra floor space.
To conclude, in my opinion, bunk beds have been given a bad rap. They are a genius invention that is making their way into homes everywhere. With the onslaught of tiny house living and downsizing, they are becoming more and more popular every year. I see bunk beds continue to rise in popularity for many years to come.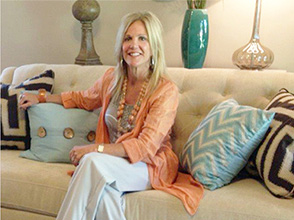 Melanie Serra, Interior Decorator, Certified Color, Redesign and Staging Instructor
Award-winning decorator and stylist Melanie Serra has been reviving interiors for over 17 years and has worked with clients in Dallas, Philadelphia, and Atlanta. Melanie Serra's approach to interior design is fresh and innovative transforming residential and commercial interiors from Now to WOW!