We've all had that temptation…
…we see an empty bookshelf and want to fill it up. But this is where a little restraint goes a long way.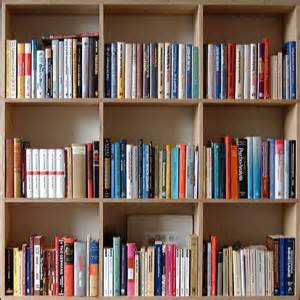 Yes bookshelves serve a function but they can also be a clutter collector. Over-packed shelves can ultimately make your room look cluttered too.
Before you load up each shelf, let's think about how that visual space can impact your room and still hold your personal signature. Combinations of books, artwork, simple home items or pieces from nature can add that special design that makes your home a showcase.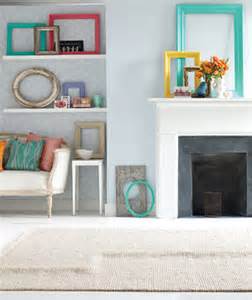 Sometimes it's nice to play against type.  Instead of filling up the space, try using empty frames in coordinating colors and different shapes.  The look is interesting, light and still leaves much to the imagination.
If you simply have a lot of stuff for your bookshelves, organize it by color or style and break up your groupings with a vase, artwork or items from the kids or an antique piece that fits with your color scheme. There is no rule that says everything has to match, but choosing the right combination makes eclectic work.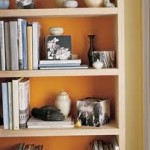 If you want to make that built-in bookshelf pop, use color. One little trick is to paint inside the shelf 2 shades darker than the adjacent walls. This finished look is warm and impressive.
If you really want to make a statement, try a contrasting color like this. Now you've opened the door for colorful accent pieces that are bright and expressive.
If you really do have a lot of older books with leather bindings, group the oldest, most interesting ones for a touch authenticity.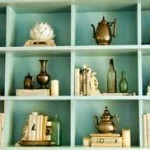 Experiment with different heights, textures and colors as you design your bookshelves and don't be afraid to think outside the box!
I'd be happy to give you my expert opinion to help you select the products or create the design that will work best in your space.
Call me at 404 943 0779 or email me at Melanie@interior-revivals.com