stronger statement
Frequently a client will have amassed a beloved collection and in adoring the items so, scatters them about the house. But moving the collection together in one place makes a much stronger statement and can bring extra satisfaction to the collector.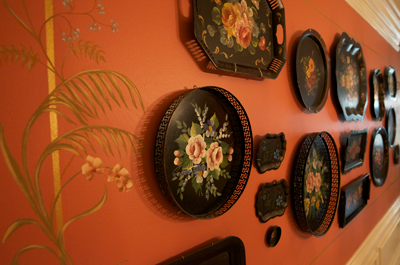 Here my client gathered exquisite toile trays created during the Victorian Era. Stacked on a table or held vertically in a cabinet, these trays were missing the opportunity to be a prime design feature in her home. We gathered the trays to create a display on the dining room wall. Once in place, a faux painting artist created a complimentary border around the display to create a frame. She selected gold tones and painted indigenous flowers from the same era along the border. This wall became the focal point of the room, attracting the eye, and adding drama to the collection displayed all together in one place.
Have a design dilemma? I can help! Call me at 404.943.0779 or visit Interior Revivals  for a consultation on paint colors, room redesign, home staging, or whatever your design dilemma might be.