My client had let a prime adult entertainment area in her basement go unused and the children seized the opportunity to use it as a play area. It was a shame to see such a lovely bar in this poolside walk-out basement go unused. Time to reclaim the space!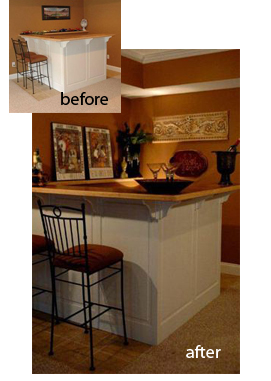 The bar was a clear architectural feature of the room, but it lacked color, interest, or a theme. We sent the toys back to where they belonged and set about turning this area into the entertainment space it was meant to be.
The wall color was fabulous, so we got right on to adding texture with artwork. The pictures added additional color and the plaque and green plant add great texture. The tray was repurposed as artwork providing a nice pop of color. The uplight adds just a splash of drama. We recovered the bar stools in a terra cotta chenille and the space really came together.
This is now a very popular area of the house and the family entertains regularly!
Have a design dilemma?  Visit Interior Revivals to set up a consultation on paint colors, room redesign, home staging, or whatever your design dilemma might be.