Reveal day!
Jane's master bathroom renovation is complete! These before and after pictures really demonstrate just how much of an impact renovations can have on a room. Thank you for traveling with us this far, as we've unpacked the reality of renovation. We've learned quite a few things, and I'll share with you some renovation survival tips! First, let"s enjoy the "after" reveal! It's awesome!
Remember these dated white walls, white carpet and brass fixtures? It has all melted away and transformed into a rich, warm space, one that Jane hopes to replicate throughout her entire home.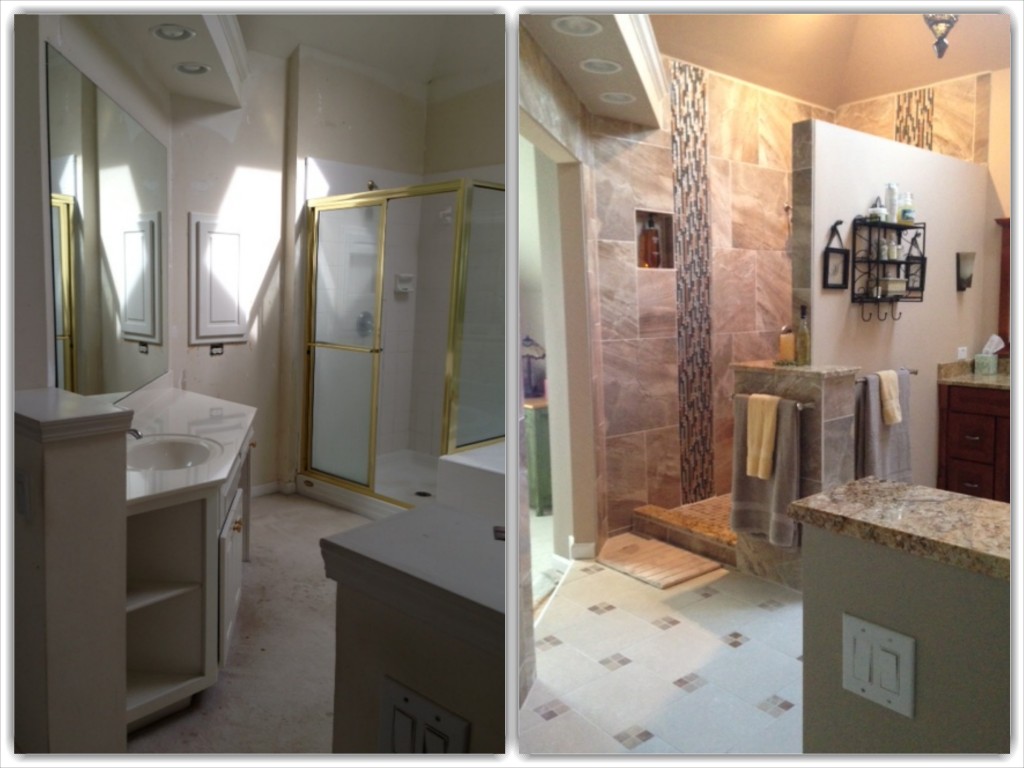 The tiling is striking in texture and color balance. Take a look at how the countertop granite pulls in the veins of gold and grey from the tile.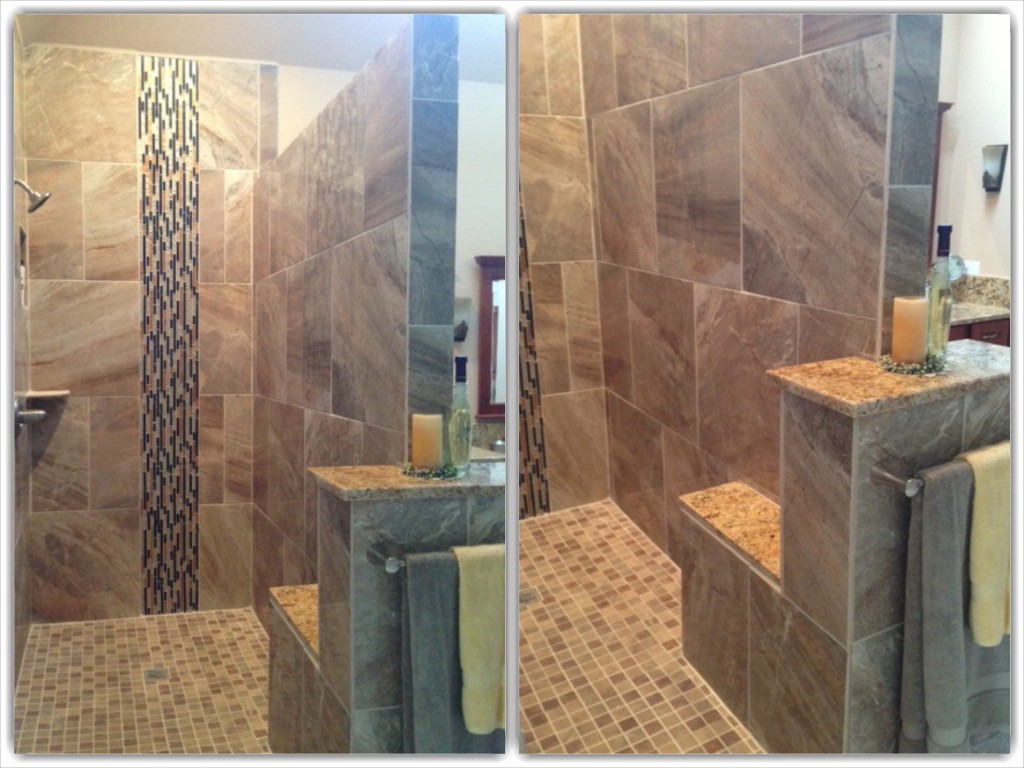 The granite theme repeats on the short ledge above his vanity and into the shower bench and bar. This stair step draws the eye into the shower and up towards the accent pieces. Inside the shower, the vertical accent tiles elongate the walls and complete the waterfall effect on both sides of the space.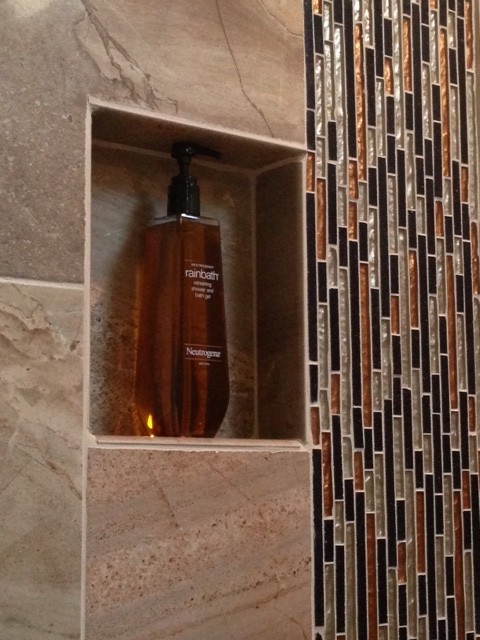 The shampoo alcoves are extra deep for larger bottles, a little something special that Jane requested.
Breaking up the large floor tiles with the accent squares from the shower floor make the pattern more interesting, and it accomplished our goal of shorter grout lines.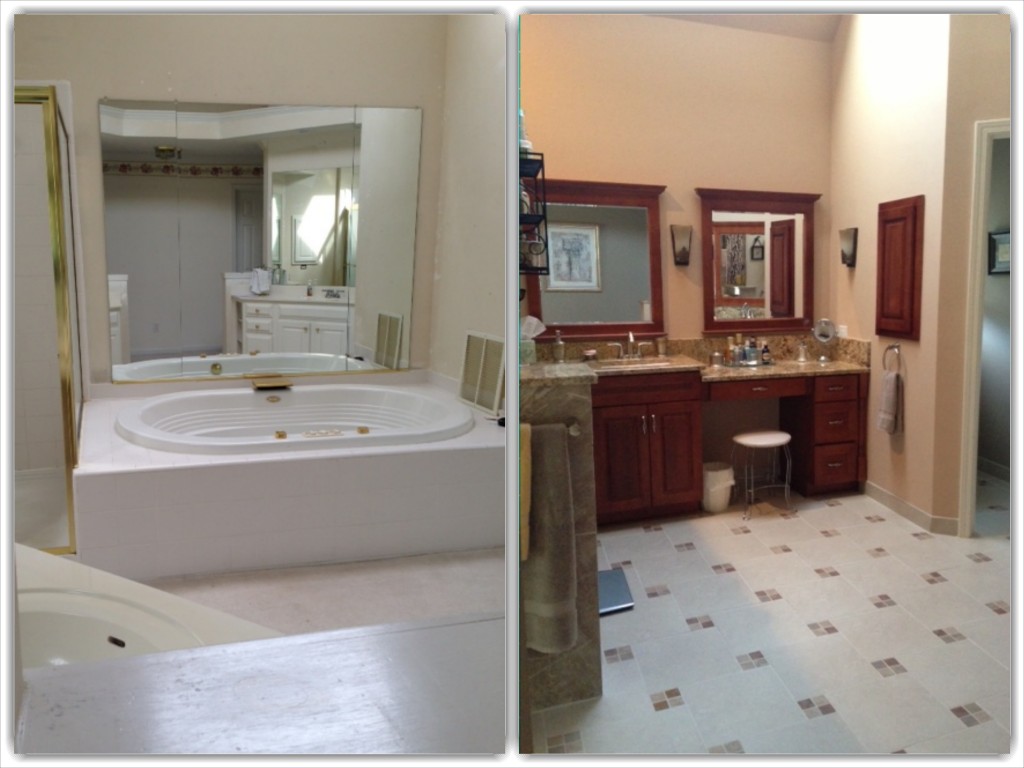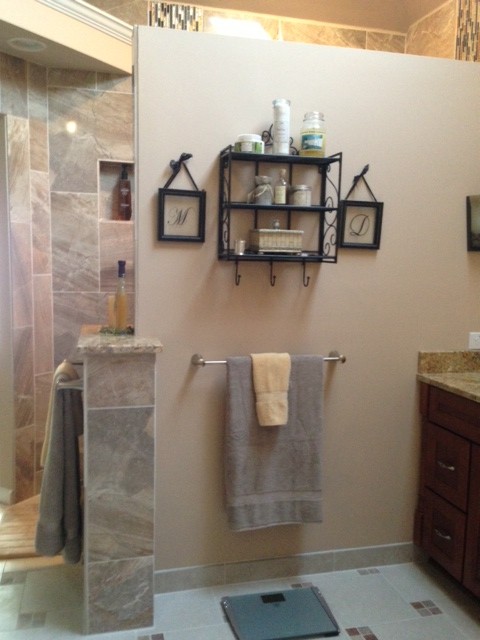 On her side, the new outside wall of the shower is a perfect place for a towel bar and wrought iron shelf. The black accents are striking but not overwhelming.
The former bathtub wall has transformed into a sweet alcove for all of Jane's needs!
As for her husband, he kept the long countertop, which provides plenty of drawer space.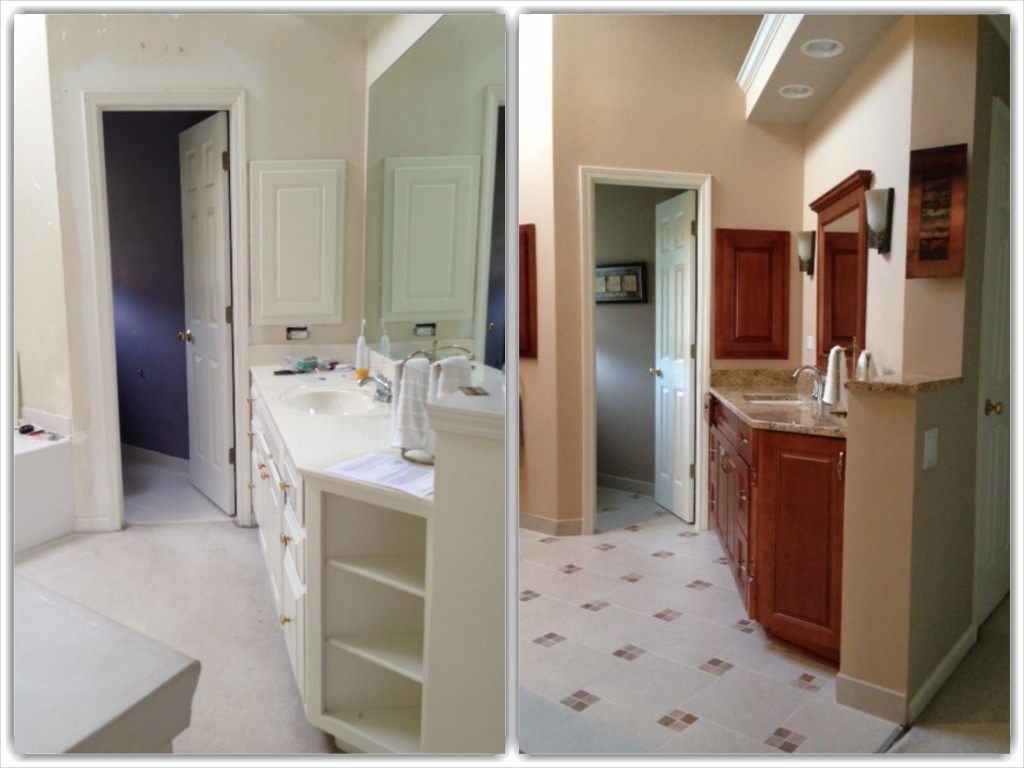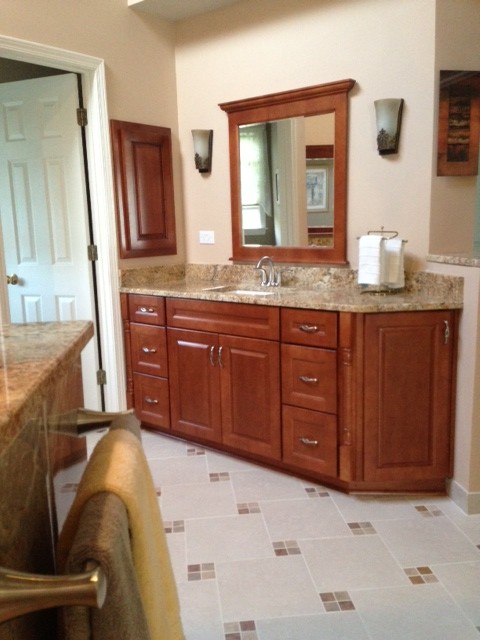 Knocking out the wall to open up the sitting room was a fantastic way to add warmth and space. We had so much fun decorating. This French yellow chaise lounge is from Joss & Main; the accent pillow is from Bed Bath & Beyond. We incorporated Jane's indoor fern by placing it behind the chaise, which is pulled out from the wall. We added a small table with extra storage – the perfect place for an accent lamp.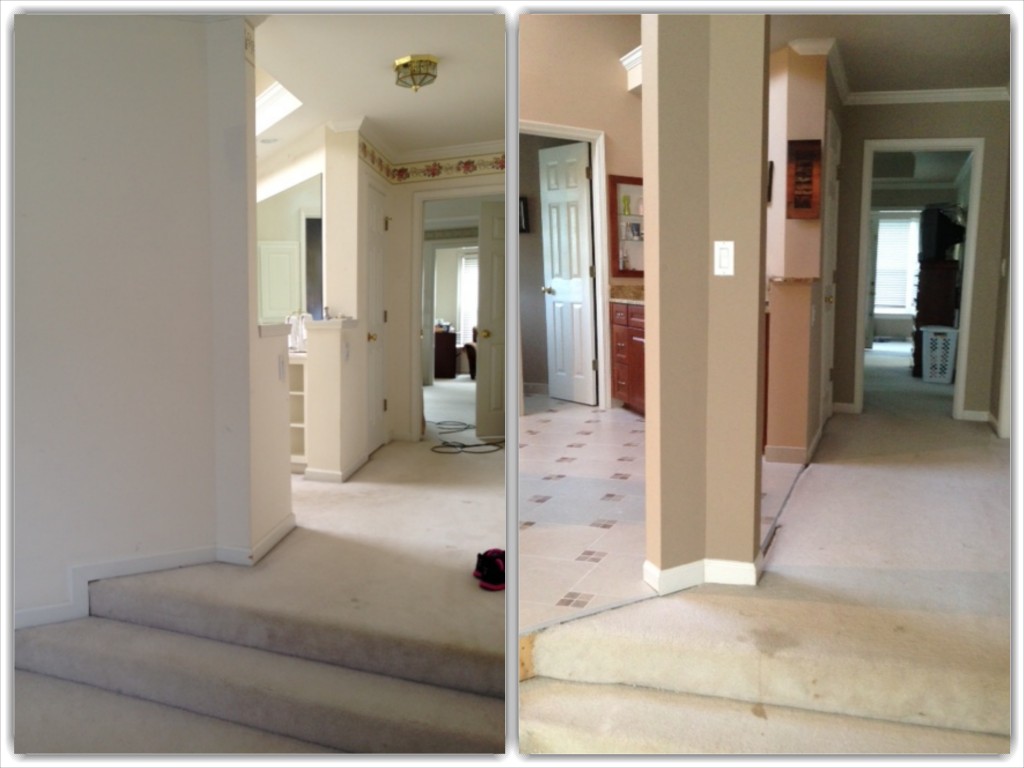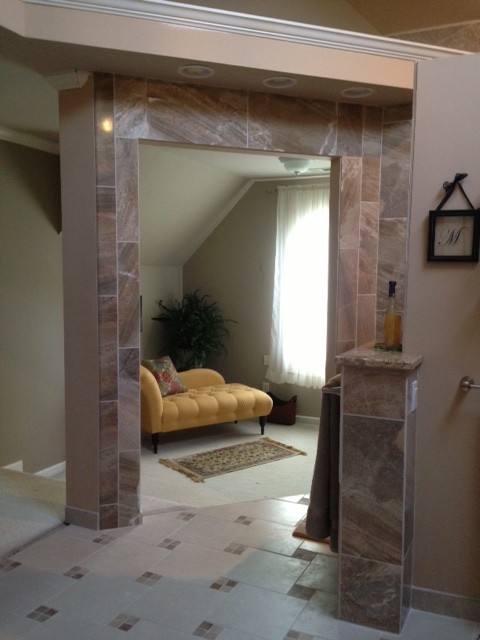 As in any renovation, it's the little extras that add so much. The antique light fixture mimics the lace metal scrolls on the wall sconces. What an improvement from the directional spotlight!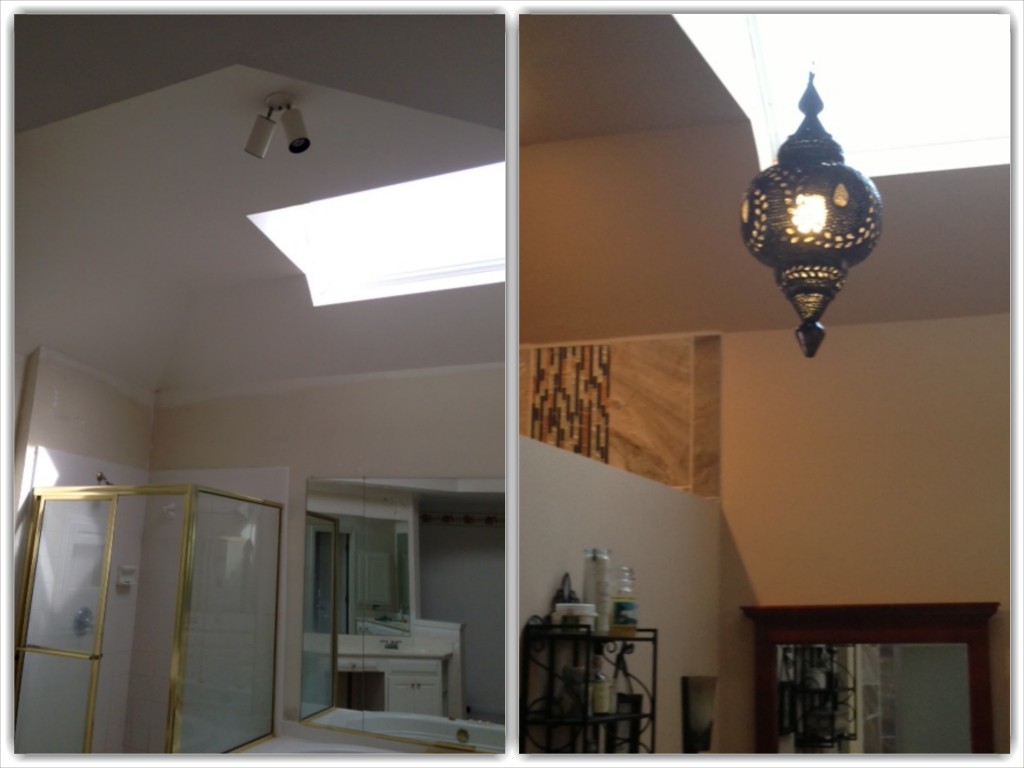 The client found this picture in a consignment store!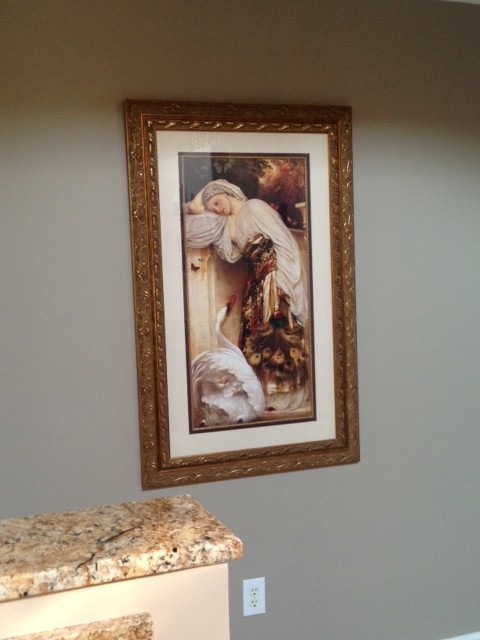 And fell in love with it! Every color in the room is represented here, pulling the room together with a nice, big bow!
The duration for this project was just over 11 weeks, and the total cost was around $20k. A more budget-friendly approach can be taken by choosing more economical materials and less change to the existing floor plan and plumbing. Jane said the greatest learning lessons for her were to have patience and to be flexible! These traits can be difficult for all of us, but especially so in a loud, dirty and disruptive environment. All of the hassle renovating can cause great mess to a bathroom, so maybe check out, Cutting Edge Flooring Services website for more information on how to keep your room clean. If you decide to renovate, keep these few survival tips in mind!
Deal with the dust! Renovation work can be dusty, especially when tearing down walls and cutting tile. Keep the windows open and place a fan to draw the dust out. Drop clothes are key to keeping the dirt and debris out of the rest of your house.
Get materials ahead of time! Before you begin the project, make sure all the materials are on site, from fixtures to flooring. As with Jane, just because the granite counter tops finally come in (several weeks late), doesn't mean the contractor is available to install them now. This can get tricky! Minimize delays with prep work at the start.
Make alternative bathroom arrangements! This may seem like a no-brainer, but when the main bath you use every day is out of commission, you will be surprised how much you depend on it. Some clients make arrangements to move their toiletries to another full bath in the house, while others may use a neighbor's bath, stay with family or even go out of town. Some of my contractor will actually set up a temporary bath in the basement using a fiberglass shower unit and toilet.
Don't underestimate the timeline! Expect delays and surprises. Timing is critical in any project, because you can't do A until B is done, and so on.
Have fun! Take plenty of before, during and after photos. You've probably waited and saved long enough for this renovation, so remember that you're making your dream a reality!
I spoke to Jane this past week about her bathroom. She said she still needs to find a small table or plant for underneath her consignment shop picture, and she'll eventually replace the carpet, but for now, she's happy to add a white throw rug under the yellow chaise lounge and maybe a small side table for her morning cup of tea.
There will always be things left to do in any room, no matter how much renovation is done. But that's the beauty of design! There are so many different ways to create a beautiful space, you can hardly ever go wrong and you can hardly ever stop! You simply choose what works best for you now! Now, that's living!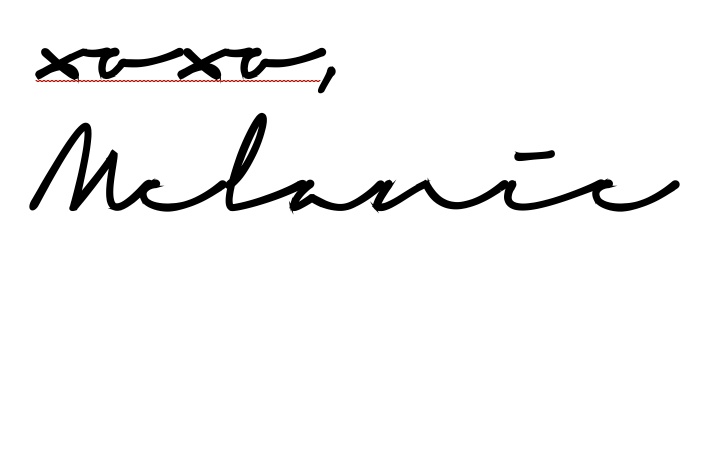 Melanie@interior-revivals.com 404.943.0779