Gray is the New White
You may have noticed over the past year that interior color palettes have changed from the warm Tuscany colors to cooler modern ones. Gray is the new white. It is the perfect backdrop to offset any color, and it can make accents pop. I have so many clients making this change to their interiors, and let me be the first to say that it can be difficult! I've had a few clients call me for help after they decided to switch from a yellow palette to a gray one, and tell me they are not quite sure it was the right thing to do! I always remind them that change can be uncomfortable at first, especially when you make such a shift in the aesthetics of a room -grays can feel cold and unwelcoming; a stark contrast to yellows, reds and greens.
The great news is that I have a few simple tips to make the transition to gray easier, and make the palette so much more enjoyable! With gray and blue becoming as mainstream as brown and yellow, it's a perfect time to learn how to incorporate these amazing colors and enjoy the beauty they can add!
1. Use grays with warm undertones
Having a paint color with a nice subtle balance of warm and cool will help ensure a smooth color transition from room to room and is a great way to introduce a cooler undertone in a home. These paint colors are called Transitional. A majority of cool colors may have something like 90% of a cool undertone and a 10% hint of warmth, whereas the transitional color is going to be closer to a 50/50 or 60/40 balance of warm and cool undertones.
Coventry Gray by Benjamin Moore is one of the best examples of showing you what a transitional color is because it has almost an equal balance of warm and cool undertones. In the room below, you can see the warmth in the Coventry Gray on the walls.
2. Ease into the transition
If the rooms in your home are all warm yellows and golden tans, you'll want to avoid incorporating a strong cool gray or blue that has very little warm tones, because there is not enough of a balance to help make for a smooth transition. This is often where many folks go in the wrong direction. They are ready for a change, so they immediately gravitate towards the stronger, cold grays and blues. Once the paint is on the wall, it feels very stark in comparison to the warm. This is where a two staged process will work wonders! Begin your transition and move slowly to the final phase.
I recommend starting with a fresh coat of a 'temporary' paint in latte or coffee colors, such as Sherwin Williams Kilim Beige (6106), Nomadic Desert (6107), or Latte (6108). These colors are considered 'greige', a combination of gray and beige. It will cool down a warm room, but it will still look more yellow or brown.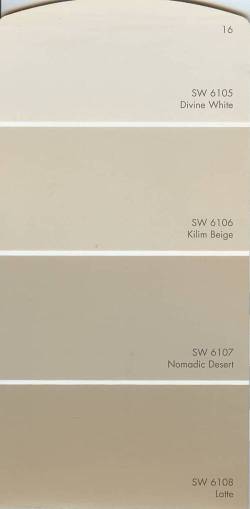 After a season or two, this color will feel comfortable and calm, but it may not convey the look you ultimately wish for. It's at this time that you're ready to go bolder! I now suggest moving to the 'forever' color, such as Sherwin Williams 700 colors.

3. Accent with warm colors
Rooms that are the most interesting and sophisticated, usually have a well balanced combination of warm and cool colors which have been introduced by the flooring or the warmer tones in the furniture itself. Yellow and gray is one of my most favorite color combinations, as well as gray and turquoise. Another aspect that is important to compliment the colours of the bedroom is the bedding. From you king size mattress to the pillows and the sheets, it all has to be perfect.
4. Try blue
I hope you've discovered a few new ideas for incorporating cooler colors in your home! If you need help with picking out your cooler paint, I'm always here to help!
Your House
What's your favorite shade of gray paint? In which spaces in your home have you gone cooler?
Go ahead, tell us in the comments!
As always, call or email me!