Edit, Edit, Edit!
Many of us just have too much stuff, whether it's the mail piling up, children's toys scattered about, or the I'll get to that project soon pile. Editing is your answer. Resolve to implement simple organizational strategies such as sorting the mail when it comes in the door, remove outgrown children's toys and provide updated storage space accordingly, and edit collections as they begin to grow.
Less stuff will always help a small space seem larger.
Trade Two-for-One
In small spaces, it is often better to have one great piece rather than two smaller pieces that do the same job. For example, a love seat can be better than two chairs, same seating capacity, but less visual clutter. This settee would be a great space-saver, even the wooden legs lessen the visual clutter.
Wide-Open Vistas
Keep the line of sight open in small spaces. Move tall items out of the line of site. For example, a floor lamp should nestle next to a wall where it will appear more grounded. Use short collections on coffee tables rather than tall ones which can break up a clear view.
Need some help creating a beautiful and functional small spaces? I'd be delighted to help you incorporate some of this year's most popular style trends into your home.
I'm also available to do an interior redesign, using the items that you already own. Let me take your patio from Now to Wow! Call me at 404 943 0779 or email me at melanie@interior-revivals.com.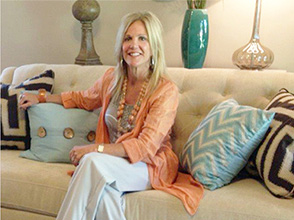 Melanie Serra, Interior Decorator, Certified Color, Redesign and Staging Instructor
Award-winning decorator and stylist Melanie Serra has been reviving interiors for over 17 years and has worked with clients in Dallas, Philadelphia, and Atlanta. Melanie Serra's approach to interior design is fresh and innovative transforming residential and commercial interiors from Now to WOW!