core of redesign
The core of any redesign is finding the perfect mix of items in the client's home. It's so much fun to search and shop the home for treasures that the client already owns. They get an instant new look in just a few hours without buying a thing!
Here this client wanted her son's room to have a more pulled-together look. As you can see in the before picture, the room lacked a theme, so I went shopping throughout the house to see what I could find: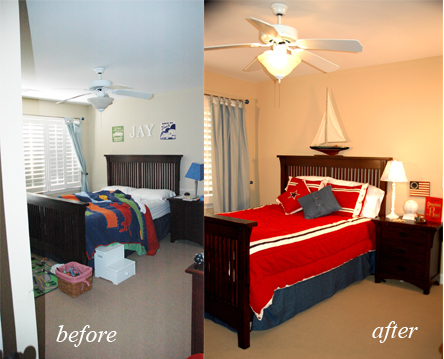 My shopping trip turned up lots of nautical items, perfect theme for this boy's room. The bedding provided a pop of color and complimented the overall theme. The curtains are the same, but hung straight to soften the windows for a masculine feel. The sailboat behind the bed anchors the focal point. The taller lamp provided balance, and the additional accessories were added to created interest and texture.
Now this room has a sense of order and is a classic, a great transition from little boy to sophisticated tween.
What a great redesign!
Do you have a passion for decorating? Looking for a new career or a supplement to your current career? Interior Redesign or Home Staging could be for you! Learn about my 5-day redesign and staging certified training course here.