As a Color Consultant, I'm passionate about color!
I love how rooms come alive by adding various hues.  Even plain white walls can take on new life by incorporating bold statements with art and accessories. Color can be the easiest way to add personality and interest in a room. If you're a bit timid about adding color, have no fear! I'll share with you some of my foolproof tips!
Before you get started, think about the room and how you would like it to feel. Are you trying to create a relaxed or energized space? Is the room a place to entertain or retreat? Once you determine how the room should feel you can begin to incorporate the color palette.
It's important to understand the difference between warm and cool colors. Warm colors such as reds, yellows, oranges are the most stimulating colors and will energize a room. Cool colors such as blues, grays, and purples will create a more relaxed atmosphere.
Now that the mood of the room is determined, the next step is to incorporate the 60-30-10 rule.
The dominant color, aka the primary color, should take up about 60% of your room. The wall color and dominate fabrics will fall into this category.
The secondary color is classified as your intermediate color. It should be used in furniture and upholstery.
The remaining 10% is your accent color. This hue should make the biggest statement and add personality to the space! Use your accent color in pillows, lamps, art and other small decorative pieces.
TIP: When using an accent color, be sure to use it at least three times in the room or it will be considered an accident and not an accent!
Be bold with your decor! Your home is a place where you can let your personality shine.
Need some design inspiration? Read through some of our older decorating posts at or visit our pages on Houzz and Pinterest.
Is your home looking tired? Call us today to give your home a fresh new look!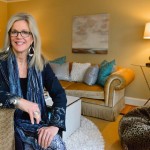 Melanie Serra, Interior Decorator, Certified Color, Redesign and Staging Instructor

Award-winning decorator and stylist Melanie Serra has been reviving interiors for over 17 years and has worked with clients in Dallas, Philadelphia and Atlanta. Melanie Serra's approach to interior design is fresh and innovative transforming residential and commercial interiors from Now to WOW!

Atlanta Georgia – 404.943.0779
melanie@interior-revivals.com