Too much clutter
This basement family room was cluttered and unfocused and like most large, unwieldy spaces, just looks as if it trying to serve too many purposes. We took advantage of the family's love of the University of Georgia Bulldogs and the room instantly came into focus!Before:
It's easy to see our problems here:
Too much clutter
No focal point to the room
Seating not focused to fireplace
Miscellaneous memorabilia adding chaos
Problematic L-shaped room
Ping pong, exercise machine, and kitchen, all for 1 space!
After: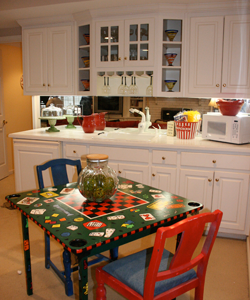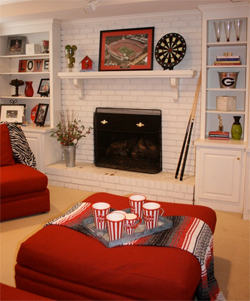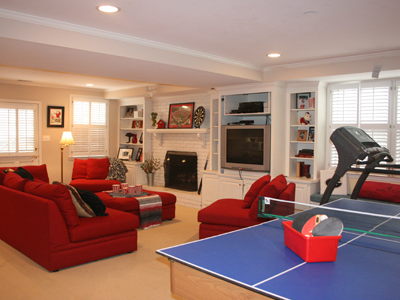 Beginning with a focal point is always the best place to start. This room had a fireplace, so that was an easy choice! We directed the seating around the fireplace, and the adjacent TV, so there isn't a bad seat in the place. The theme of the room was easy to select, they already had a great collection of UGA memorabilia, so we used the red, black, and white for the color scheme. A collection is always stronger when displayed together, so we scoured the house for additional memorabilia to display all together here.
We divided the room into three areas to give the room balance and harmony, and that also created more functionality to the space. The ping pong table and exercise machine are now placed appropriately for use, even while others are using the room. The kitchen area also went into the redesign, using the room colors, and providing a multi-use table. The painted surface is a game table, but can also be used for dining.
What a great space!
Do you have a passion for decorating? Looking for a new career or a supplement to your current career? Interior Redesign or Home Staging could be for you! Learn about my 5-day certified training course here.