Merging Your Styles & Keeping the Peace!
Coupledom! We all love to be united! It's such a pleasure to have a companion to share your life with and someone to depend upon! But what happens when your styles differ and you plan to move in together? Interior designs clash and power wars always ensue!
When two people with differing tastes move in together, it can be quite the transition. From whose chair gets to stay in the living room to which piece of art is hung over the bed, it seems nothing can be agreed upon! Merging – that's what we call it as we specialize in designing for couples! And we have several tips on how to successfully merge two homes into one without killing each other!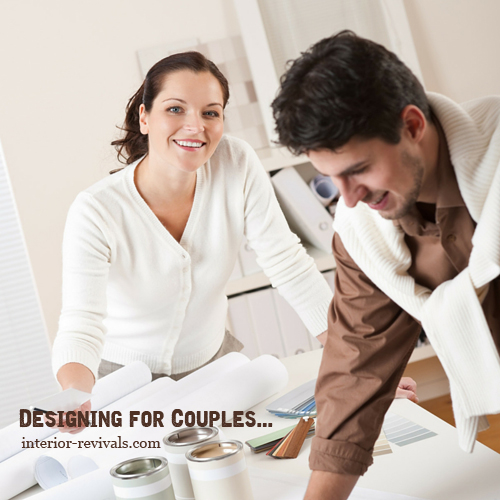 1. Ask Questions and Learn to Compromise
Realize that merging two households means making compromises. Your lifestyles are about to change, but that doesn't have to be a negative thing. In fact, it's very exciting. Help each other make the transition easier by respecting each other's ideas and talking everything out if you have a conflict.
2. Share and Communicate – Don't Dictate
Discuss your priorities and discuss how you anticipate living and entertaining in your space. Perhaps once you've shared your ideas you'll find that they're not that different after all.  Keep this step a high priority, for example, a simple like/dislike, and yes/no for potential colors will keep you from getting bogged down and discouraged.
3. Make a Personalized Plan that Meets Your Needs
Merging households means merging lifestyles. Think about all the factors in both of your lives that will be affected by the merge. Have a plan for accommodating each other's hobbies, pets, and so on.
4. Find a Decorating Style that Merges Both of your Tastes
Whether you're moving together into a brand new space or into one of your existing homes, decide on a new decorating scheme that will tie all of your possessions together into a cohesive home. Find out your respective design styles, and pull aspects from each into your interior. This space belongs to you both, so be sure it reflects the two of you. If you and your partner identify with very different styles, you may need to accept a more eclectic style. It's not worth trying to convince your partner to change their taste in design and decor just to maintain your interior look. Instead, think beyond classifications and pay attention to shapes, textures, and materials when arranging and decorating your new space.
5. Maintain Balance
Whether it's a balance between rustic and contemporary or masculine and feminine, make sure that your united spaces convey an equal blend of your individual tastes and styles.
6. Buy New Together
You both have things that you love, things that define you respectively. But what will really help harmonize your interior styles is something that defines you both. Shop together to pick out something new that you both love. Perhaps a sofa, or a rug, a bookshelf, or an amazing piece of wall art. Create a new focal point in your space that represents the two of you. If only your style dominates the decor of your together space, it's not going to feel like a married home. Joint purchases help represent both personalities, so suck it up and shop as a team. Start with small things like frames, place mats, and lamps.
7. Maintain Space
Sharing a home doesn't mean you have to hang in the same room 24-7. Designate Zen areas to escape to (okay, from each other). Maybe yours is the porch and his is the kitchen table. Wherever your Zen zone is, make it comfy with your favorite items.
8. Be Open About The End Result

You don't have to deck out your entire home overnight — in fact, it'll totally look thrown together if you do. Getting pieces you both agree on is a process, so make it fun — a travel piece here, a birthday gift there. If you wind up with an eclectic mix of stuff, all the better. You're not a cookie cutter couple, so why make your home look that way?
So, are you still worlds apart with your space? This is where a professional designer can really help.  Our goal is to combine and for couples merging your styles and choices together in a way that works without sacrificing anyone's "must haves".  Call me to discuss your designing for couples needs!
Your House
What has your experience been with merging?
Go ahead, tell us in the comments!