Since the bed is the focal point of the room…
…the piece hanging above it should anchor the bed, be eye-catching and make a statement.  Whether you decide to hang one large picture or build a composition using various sizes of frames there are some guidelines to consider:

Theme: The pieces you select should match the motif of the room.
Color: Consider how the selected piece(s) repeat, accent or balance the other colors in the room such as the bedding, draperies, and upholstery.
Here are some additional tips:
Never expand the picture or the composition beyond the length of the headboard. The rule of thumb is that the grouping should occupy 2/3 of the space.
To use art as a headboard, choose one of the following: a mirror, artwork or an architectural piece that is approximately the same width of the bed and taller in height.
Try the unusual, think outside the box and create a wall composition with other items such as collections, architectural artifacts, reliefs or sconces.
On a budget?  Gather as many mirrors you can find in your home. Spray paint the frames all the same color. When building the composition on the wall start with the largest mirror first and then build fill in with the smaller frames.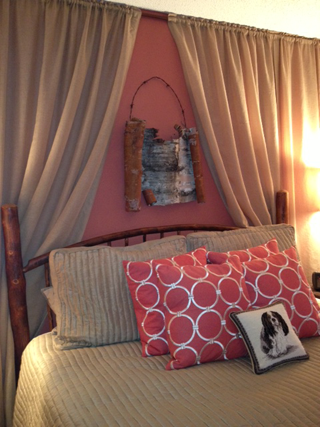 A friend of mine made me this fabulous wall sculpture out of birch bark and barbwire. Isn't it cool!!!
It's perfect for over the bed in my lake home!
Blankets and quilts work too!
Even empty picture frames in a grouping can be interesting
Need some help in establishing the perfect art for the bedroom? Contact me at 404 943 0779 or email me @ melanie@interior-revivals.com and together we will solve this design dilemma!