MELANIE SERRA LAUNCHES INTERIOR-REVIVALS.COM
January 7, 2013 (Atlanta, GA) Interior design specialist, Melanie Serra, launches an all-new Interior-Revivals.com celebrating the increased demand for design consultation services. The concept of the redesign consultation is decorating with what you have is very popular. Her consultation services are in high demand, whether it be for a color consult or a kitchen remodel. "Clients like the fact that they don't have to totally start from scratch." says Serra. Clients enlist her services to coordinate all or just a portion of their decorating and remodeling projects to save time and money.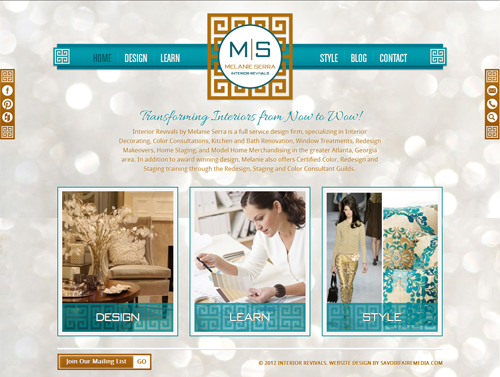 "Bringing all my areas of specialty under one web umbrella helps new and current clients understand the breadth of services I offer. Sometimes a client just needs a 2-hour color consultation to select new paint colors for a home, and then they realize they need window treatments as well and I can pull the whole room or the whole house  together for them," says Melanie.
The website features three sections: Design, where clients can discover the full range of services available; Learn, where clients and other designers can explore and register for Melanie's classes in becoming an Interior-Redesigner, Home Stager, or Color Consultant; and Style, where anyone can follow Melanie's Style blog and read her engaging newsletters full of helpful tips.
Finding the perfect time to rebuild a web presence is never easy, but this year with the increased demand for her services made the timing just right. And it's not only the changing economy influencing demand, but also the increased awareness of re-use and recycle. The concept behind interior redesign is taking the items a client already owns and re-arranging and re-purposing them throughout the house. Redesign services are popular with not only the do-it-yourselfer who just needs a little guidance, but the client that wants it all done while they are away, as well. Even the huge popularity of television shows such as American Pickers and Antiques Roadshow have encouraged homeowners to dig out their vintage treasures and incorporate them into their interior design.
I'm looking forward to the start of the new year and helping my new clients reach their goals. Everyone "regardless of budget" deserves to live in comfortable spaces, surrounded by the people and things they love!
Interior Revivals by Melanie Serra is a full service design firm, specializing in Interior Decorating, Color Consultations, Kitchen and Bath Renovation, Window Treatments, Redesign Makeovers, Home Staging, and Model Home Merchandising in the greater Atlanta, Georgia area. In addition to award winning design, Melanie also offers Certified Color, Redesign and Staging training through the Interior Design and Color Consultant Guilds. Learn more at www.interior-revivals.com
###