When you hear the suggestion,
"How about no-sew curtains?" What images come to mind? Window coverings come in so many great varieties these days, from elegant drapes to motorized blinds! But if you're looking for something simple and chic, no-sew curtains could be the answer.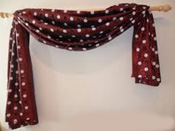 A simple scarf swag?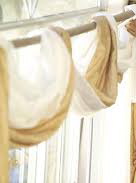 or something more elaborate?
Your first experience with no-sew curtains may have simply been tying one on the curtain rod, that is.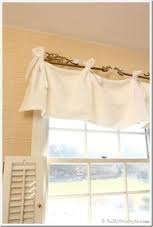 This simple yet graceful design is something anyone can do. As the design has become more popular, we're seeing innovative use of the technique and different accents. Here you see curtains tied with ribbons, a great addition for your little girl's bedroom.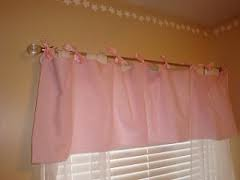 Ties don't have to be at the top, they can gently gather the bottom.
Large, soft tassels add a casual chic look. Nothing beats the easy, comfy look of these tassel-gathered curtains.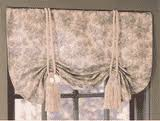 Except maybe the fun that's included in these.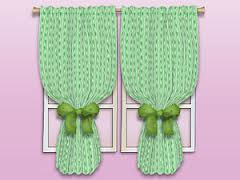 Remember triangle curtains? They started like this.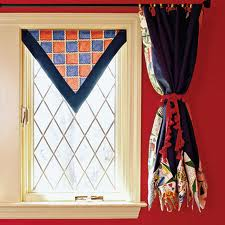 and evolved into this..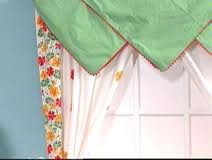 The playful polka dot curtains and fringed triangles introduce a color palette that works and opens up possibilities for contrasting throw pillows or other wall accents.
No-sew triangles were a creative and innovative idea that helped save many a window, and offered a quick design solution. This was a good first step, but now, no-sew has evolved.
One of the quickest and most tailored looks is a covered window box. You can construct the frame out of a heavy cardboard or plywood, then adhere fabric with glue. The trick is to get it tight and smooth, if that's the look you're going for.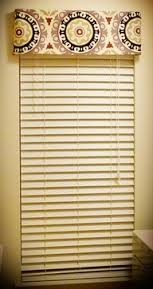 But as this look has also evolved we're seeing many incarnations with added pleating and embellishments. You may want to try something like this – a little more challenging but it definitely has panache!

Pleats across the front, stapled in place, with a padded and gathered corner cover makes an elegant statement. Building on these basic ideas and going one step further takes a conservative, simple look and turns it into something more sophisticated.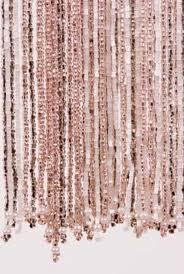 One last idea I think you'll love pulls in two mediums, beads and curtains. For those who love to bead, these cascading crystals are brilliant and certainly a lot fun. String them yourself or buy the strands to hang.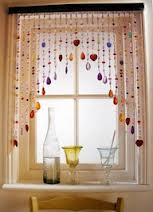 But if you have a talent and a definite idea – go for it. This carefully measured and balanced bead curtain has that splash of color, symmetry and whimsy. What a great conversation piece for all those friends who will gather in this inviting room!
No sew curtains, a no fear approach..
I'd be happy to give you my expert opinion to help you select the product that will work best in your space.
Call me at 404 943 0779 or email me at Melanie@interior-revivals.com