There's no denying the importance of color.
The atmosphere it creates. How it makes us feel. How we react to different color combinations.  I take all of this into consideration when I approach any project – especially a color consult.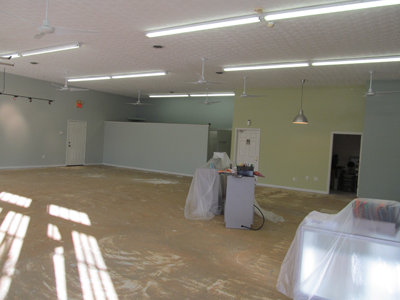 Bonnie Kallenberg is the owner of Finder's Keepers,  a business of four upscale consignment stores around metro Atlanta. Bonnie had a space that really needed a facelift.
The walls were a basic industrial off-white.  The whole space was crying help!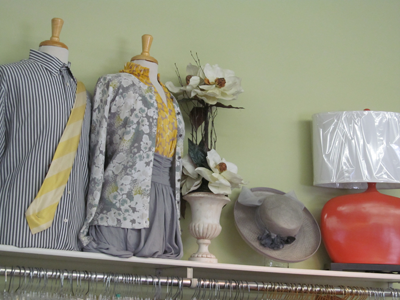 Bonnie and I talked about what the space should feel like and the atmosphere she wanted to create for her customers.  The challenge was in the paradox of selling re-purposed clothing in a fresh, new-feeling space. I also consulted with her on the store display. I suggested that the window vignettes and clothing displays complement the stores "new color brand".  So, here's what I did.
The first thing is to get a lay of the land, so to speak.
Where are the interesting angles, where can we take advantage of natural light, where do we need help? I had to create a color pallete that would accentuate all the clothing – not compete with it.  Bonnie also wanted me to help select flooring that would be durable and complement the space. So we went to work.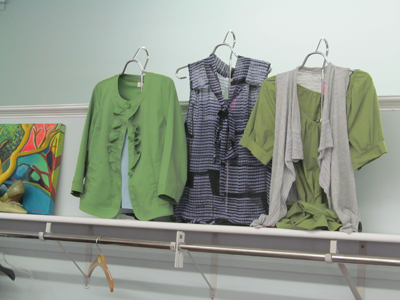 The goal was to  keep the the space fresh and inviting so I selected a color pallete found in nature. I incorporated different values of soft blue and green to add depth and softness. I started with  SW 6212 Quietude and contrasted on the adjacent wall with SW 6422 Shag green (using Sherwin William colors).
To ground the space I added gray  SW 7057 Silver Strand and SW 7018 Dovetail. This complemented the new resilient flooring that simulated old gray barn wood floorboards with textured graining.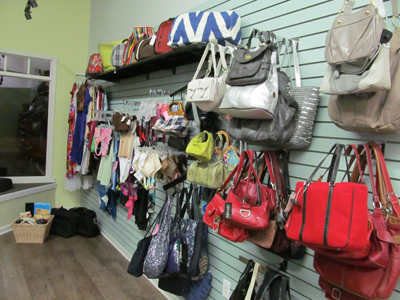 Once the walls and floor were done, the Finder's Keepers staff went to work and set up color coordinated displays. They created a purse and shoe display.
They also dressed out strategically placed manikins in the blue and green color palette, and added the little touches in keeping with the new color brand of the store.
The end result? An inviting store with a hip crisp look and atmosphere that says, "This is a place you'll find quality, with touch of panache."