Recycling Revival
One thing that most of us know for sure is, if you want quality it usually comes with a hefty price tag. If you can't afford to buy expensive furniture but you still want quality items that are hardwearing and full of character then what do you do? You could join the growing number of people who are upcycling. Upcycling is taking something old and giving it a cool makeover, turning it into something else or just giving something pre-loved a new home. This is a great way of refurnishing your home without breaking your budget. Whether you're looking to refurnish an entire room, or just add a few interesting pieces to finish off your design. You can do this with your own furniture. If a piece isn't working in its existing style or location then you can renovate for a fraction of the cost of buying new.
Shabby chic DIY to save $$$$
Shabby Chic is very "in" right now and everyone wants the"shabby chic" look somewhere in their home. If you don't have the money to buy this distressed look ready-made then why not have a go at a bit of" Shabby chic DIY"? Not only will you save money, but you will have a something completely unique, not to mention the satisfaction of showing your handiwork off to family and friends.
Combat cost of living increases
With the rising costs of running a home in recent years, it seems that once you have paid all your bills, there is very little left to use on "luxuries" like home decor. If you want to furnish your home but have a really tight budget then freecycling is for you! Freecycle Networks are made up of independent groups and they can be found all over the world. It's about local people giving and receiving items for free in their own towns and cities, rather than see items which could be reused by someone else ending up in a landfill. Not only is it extremely environmentally friendly, it is also a great way to furnish your home for free, or with the minimal cost of a little repurposing. Getting creative and thinking about how you might use or reuse an item rather than throwing it away is the ultimate recycling, and there are many ways in which your old items can be transformed to add great designer looking touches to your home. Don't forget, if you add value to your home with new pieces of furniture then make sure to amend your home insurance policy to cover any items, especially items that would be difficult to replace.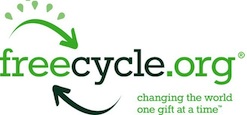 Get your creative juices flowing & get crafty
Painted wood is very popular at the moment, which is great news for those wishing to recycle an old piece of furniture and bring it back to life. It is amazing the difference a coat of paint can make to a tired looking chair or bureau. Don't forget the primer though if you want a professional finish that will look good and last. Sanding down and re-varnishing can also revitalize old wooden furniture. With a little time and effort you can turn almost anything into a statement piece for your home.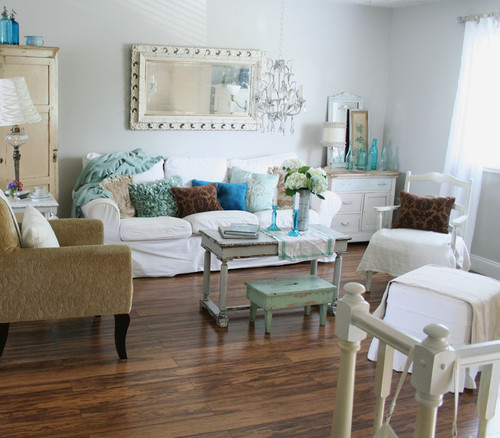 Add some sparkle!
If you love a bit of sparkle in your home, you can add touches without it costing a fortune. You will find all that you need in most craft shops or hardware stores, find a good local retailer and ask their advice about the best products for the project you have in mind. You can also watch "how to" videos posted online for extra help if you are unsure when you first start renovating items yourself.
Do you DIY or do you call in the experts?
Some people choose to call me to help them achieve the look they want for their home. Even if you have a small budget, I can help you and may in fact be able to suggest ways of cutting costs to help you achieve the look you want without blowing your budget. Whether you choose to call me or go it alone, don't be afraid to be bold. Be creative and be true to yourself and make your home and decor work for you. If your home is a reflection of you then make sure it's a positive one.
As always, call or email me!