Loving what I do
Not everyone gets to do what they love.  I not only LOVE what I do every day; I also get to work with WONDERFUL clients.  This redesign project was so much fun! This particular client is a favorite of mine because she scours flea markets; garage sales and consignment stores to find those decorative items that are one-of-a-kind, unique and quirky.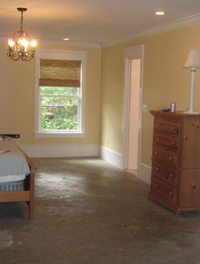 On this particular visit she wanted me to redesign her master bedroom. She phoned to tell me that she had recently purchased some new items and wanted me to find a way to display them in her home.  I was thrilled and excited at the prospect. I never knew what she would pull out of her hat (closet or attic). What I did know was that her taste was impeccable and her sense of style unique. I was in for a treat!
Once I accessed the room and previewed her new finds, I was able to complete the room redesign in one day.
Here is what I did:  I began by positioning her bed between the two windows and found a chest in her basement that we repurposed as a side table (adding more storage).  She revealed her newest purchase, a pair of French style mirrors framed in a tin decorative motif, which I hung over the bed. The next step was to determine the color scheme for the room. I decide to go with yellow and purple (the perfect color complement). I then purchased pillows and a comforter to add color and texture.  The rug and additional accessories were found in another room.  The last thing I suggested was to paint the doors black and to hang the antique metal door signs. Oh so French!!!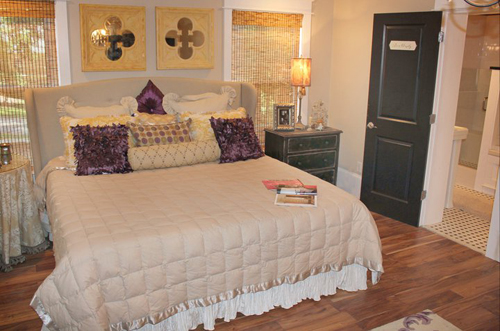 This client is constantly reinventing her decor and does it on the cheap. But her rooms look far from ordinary, they look magazine worthy!
Interested in a room makeover? Contact me at (404) 943-0779 or email me at melanie@interior-revivals.com