I just love it…
when a student succeeds and has made their career dreams come true.
Ginger was a perfect student of The Home Staging and Redesign Guild, she was anxious to learn and full of drive.  I am very happy to announce that her company Design Dilemmas has been voted the "Best Designer" in her local area.
Melanie,
I just had to share with you. HSG was the first place I turned to to help me gain"accreditation"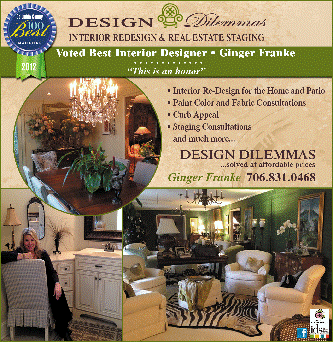 & "a name" for myself. I had no formal training, just passion and drive, so it was hard for people to take me at my word. HSG gave me the knowledge,confidence and skills I needed to make my dream become a reality. I learned so much from my classes and your positive attitude gave me the confidence I lacked. I came with most of my ideas and a business name, many ideas and I was ready to learn. I followed you, all you taught me, referred to my workbook and started to increase my visibility with a very low budget. I also adjusted my fees and services as dictated by society. It worked for me. (Also, I think the idea of me telling people I went to school in Atlanta made a big difference.)
As you see, all the training and hard work along with great customer service has paid off. I am proud, shocked and humbled! It shows you don't have to have a 4 year degree or be in the "clicks". I love that I can help everyday people with everyday budgets!!!! It makes my heart sing and my calendar full!!!! This is a reader/community based vote.
Again, thank you, Ginger F.
To find out how you too can make your career dreams come true please visit The Home Staging and Redesigner Guild.
The HomeStagers and Interior Redesigners Guild @www.thehomestagersguild.com  or contact us at 404 943 0779 to learn more about training and class schedules.