Think You Can't Afford an Interior Designer? – Think Again!
We all love the idea of having a home that looks like an ad for the cover of Southern Living!  We may even try a little decorating ourselves, purchasing a few nice pieces of furniture or repainting a room.  But as much as we may love decorating our home, we sometimes get stuck!  What do we do when we are strapped for money or time? Or what if certain aspects of design intimidate us, like paint colors?
And do any of these scenarios sound familiar?
You love shopping and have collected some terrific pieces over the years, but you are stuck on how to put them all together. You need an extra eye to help with room layout.
You know what you like but simply don't have the time to find the best sources. You feel like you just keep going back to the "same-old, same-old" stores and are spinning your wheels.
You are confident in terms of furniture and style but are stymied when it comes to fabrics, paint, and accessories.
You have a short-list of potential accent furniture, but you find yourself paralyzed when it comes to making the final decision. You need help pulling the trigger on a purchase.
You have decor magazines piled up on your bedside table, but you still need help translating your vision into a functioning 3-dimensional reality.
Perhaps you would never consider hiring an Interior Designer to help you with any of these.  After all, they only do full room make-overs, right?  They walk into a room and are ready to demolish everything and rebuild from the ground up, yes?  Surely they don't have time for a few design tweaks at my house!
Yes, they do! Today's designers are expanding their repertoire of skills, offerings and services to include every aspect of the design process. From vision to implementation, designers are taking new steps to meet their clients every need!
While some of us don't want to commit to an expensive, lengthy, full-fledged professional makeover from top to bottom, we can all benefit from a little help and guidance from a professional.  Happily, Interior Revivals has some low-cost and low-risk options for you!
DECORATING CONSULTATION:
A 2 hour consultation which includes viewing your entire home and coming up with a decorating plan based on your current style and/or troubleshooting any specific problem areas. Melanie will leave you with a list of actionable next steps for you to complete on your own or with her!
COLOR CONSULTATION:
A color palette for the walls, trim, and ceilings is created for each room along with the appropriate paint finishes.
SHOPPING:
When you need additional items for your home, you can choose to have Interior Revivals shop for you or arrange a convenient time so that you can shop together.
INTERIOR REDESIGN, ACCESSORIZING & ART PLACEMENT:
The clients existing furniture will be positioned and placed to create a new look. Bookshelves, sideboards and table countertops will be accessorized. Artwork will be positioned and hung.
HOME STAGING:
Walk and Talk Consultation:  This consultation is perfect for the client who is on a budget, or a do-it-yourselfer. Interior Revivals provides an itemized "Home Staging House & Grounds Inspection List" for the client to complete.
Walk, Talk, & Tweak:  This two hour appointment is perfect for the client who needs just a little help. Light staging consists of tweaking and repositioning a few accessories in those rooms that need a little extra attention.
WINDOW TREATMENTS:
Initial Consultation:Â  This consultation includes suggestions of the treatment design and fabric selection.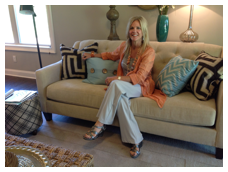 As you can see, there are a variety of ways I can work with you!  My goal is to make you happy in your home! As always, call or email me at 404-943-0779 or Melanie@interior-revivals.com.