Create a space that is both elegant and enduring
Transitional design creates energy with its simple lines, neutral colors and the use of light and warmth with results that are both elegant and enduring.
Transitional design beautifully combines traditional and contemporary furniture, finishes, materials and fabrics to create a classic, timeless design. Together they create a perfect balance of masculine and feminine designs that produce a relaxing and uncomplicated room.
You can create a perfect marriage between these two designs by following a few of these transitional design tips:
Start with a neutral color palette, such as gray, taupe or white and add a splash of bold color to add depth to your room.
Fill the room with furniture that has simple lines or that are gently curved. Select pieces that are more sleek, casual and comfortable.
Add textured fabric and exotic materials like faux fur, cowhide, or burlap. Texture goes a long way in sprucing up a room.
Keep your wood finishes neutral in color for a refined look.
Give an old piece a new look with chalk paint.
Add geometric and large scale patterned rugs for interest.
Accentuate with bold colored accessories throughout the room.
Incorporate metallics in silver, brass and copper to spruce up your decor.
Choose one large colorful art piece for a focal point and to add impact.
Be creative with transitional style.
Still unsure how you can combine these two classic styles to your home? Let us work with you to create a transitional style that works for you and your family.
Call us today to give your home a fresh new look!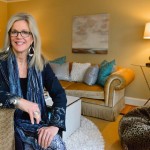 Melanie Serra, Interior Decorator, Certified Color, Redesign and Staging Instructor

Award-winning decorator and stylist Melanie Serra has been reviving interiors for over 17 years and has worked with clients in Dallas, Philadelphia and Atlanta. Melanie Serra's approach to interior design is fresh and innovative transforming residential and commercial interiors from Now to WOW!

Atlanta Georgia – 404.943.0779
melanie@interior-revivals.com